technologywithin: COVID-19 (Corona Virus) Updated March 27th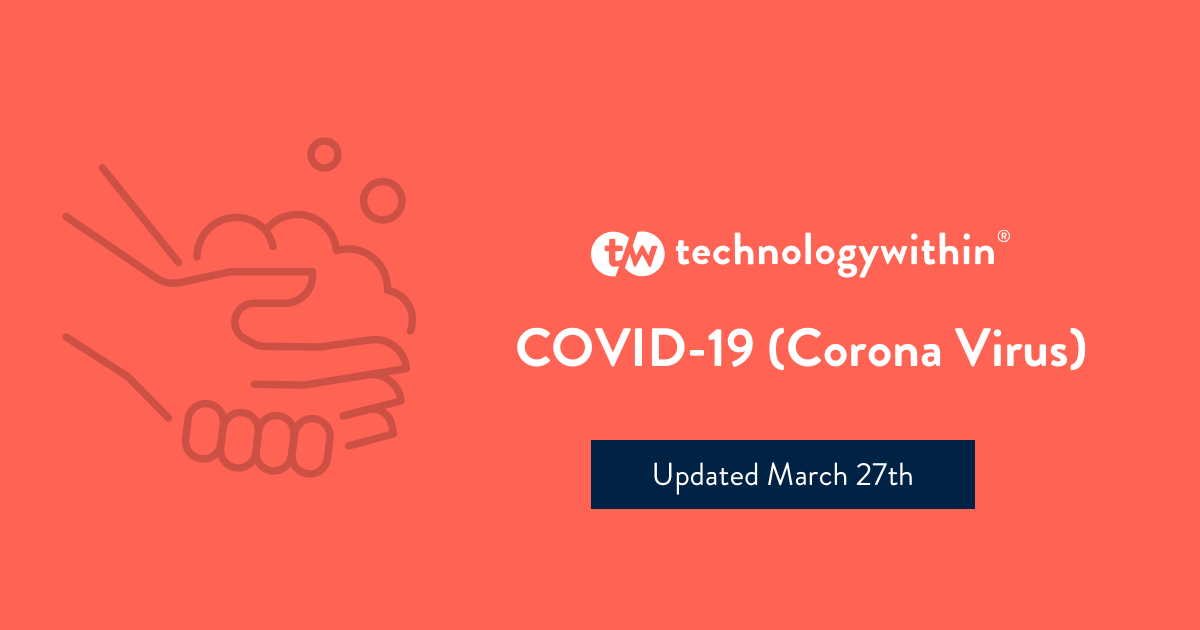 Service continues
Further to our COVID-19 (Corona Virus) statement on March 13th, we wanted to give an update to our customers to provide reassurance on the continuity of our service and support for you and your clients.
We are pleased to say that the plans that we put in place a few weeks ago to minimise the spread of COVID-19 (Corona Virus) amongst our team and ensure our provision of ongoing service have been successful.
Our existing IT & communication infrastructure is robust and was easily adaptable to enable all of our team to be able to work remotely at short notice, which is now in place. Our helpdesk is open as normal 08:30-17:30, Monday to Friday.
Unless otherwise instructed we will be keeping our support service open and will continue to deliver installations, upgrades and remote support.  Onsite support may be more limited as we will adhere strictly to the Government guidelines on Corona Virus.
Additionally, based on the new Government support policies, we have other plans in place to ensure our future financial stability as a company.
Based on this, we feel confident that we can continue to offer clients support over the coming months. We will continue to monitor Government advice and regulations and ensure we are fully compliant.
Keeping customers connected
As we are sure you are now aware, we have remote working solutions for our telephony platforms available for all of our clients.
Depending on the platform that you use, this is offered through our mojovoice service mojomemobile (at a minimal cost passing on our supplier pricing only), or through the beta launch of our meshvoice at home portal, which will be offered to all meshvoice customers free of charge until further notice.
Customers have the ability either to divert their office phones to mobiles or remote landlines, or to easily configure a softphone app to work as if they were in the office and enjoy full functionality of our services.
Thank you to everyone for their helpful feedback on these platforms which is enabling us to further improve this service at a difficult time.
Our support and account management teams are available to help with any questions you or your clients may have.
Customers should continue to use our existing contact telephony and e-mail contacts as usual:
Email: help@technologywithin.com
Call: 020 7953 8800
Finally, I am proud that our team have risen to the challenges of new ways of working incredibly well and have instigated some creative, regular online team-building events, using Microsoft Teams and webRTC technology to keep up spirits.
Kind Regards,
Jon Seal
Managing Director
Subscribe to our newsletter
Connectivity and workspace management services that empower operators and landlords to grow