The only workspace management tool you'll ever need
Operate, manage and grow your workspace all from one platform.
twiinworkspace is the workspace management platform that makes looking after clients easy and revenue growth a reality.
"We are really pleased with twiinworkspace and glad that we chose it as our workspace management software"
Mary Stevens
Operations Manager

We know that every workspace is unique, so twiinworkspace is made up of 3 elements allowing you to create a solution that's perfect for you.
twiinworkspace empowers flexible workspaces to manage their day-to-day operations and is made up of three key modules. The standalone main twiinworkspace module is the hub of the workspace for managing client data, agreements, adhoc and monthly bill runs (with integration with existing accounting software packages), client ledgers and credit control, meeting room bookings and much more. The twiinsales module allows the operator to receive and manage their sales process from initial enquiry through to contract signing. Finally, twiinportal completes the package by offering clients the ability to self-serve and manage their own data along with offering payment processor integrations so workspace users can easily pay online for goods and services.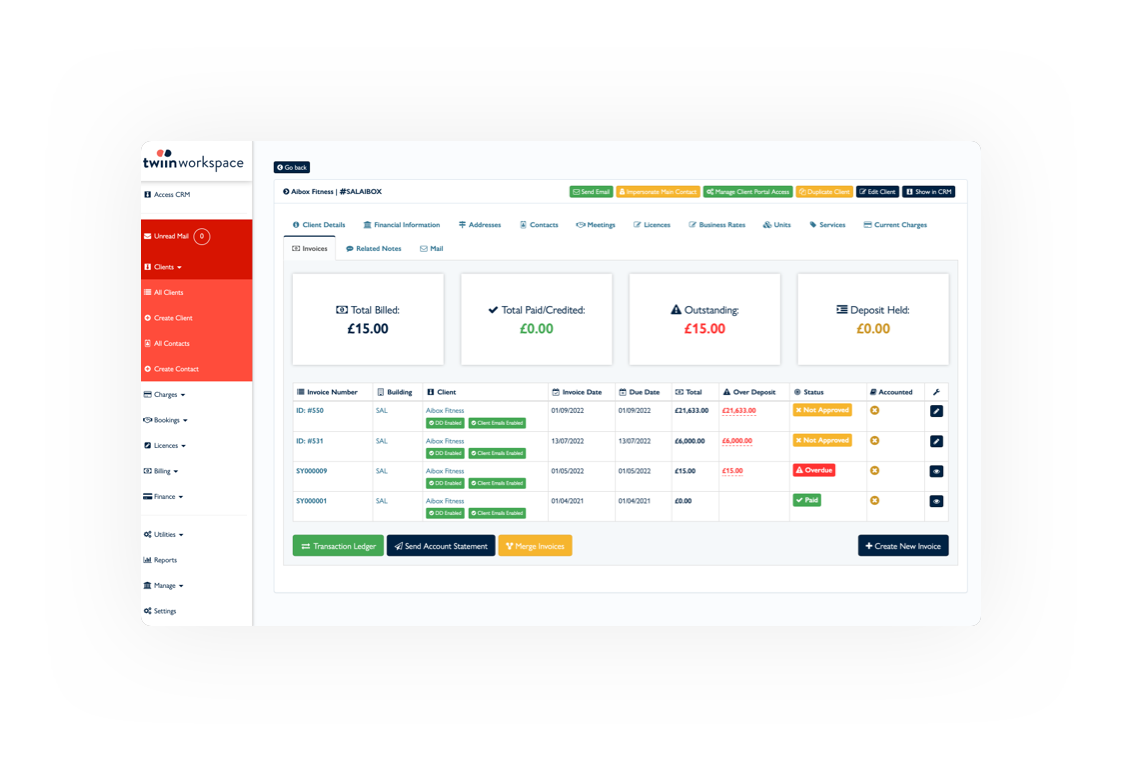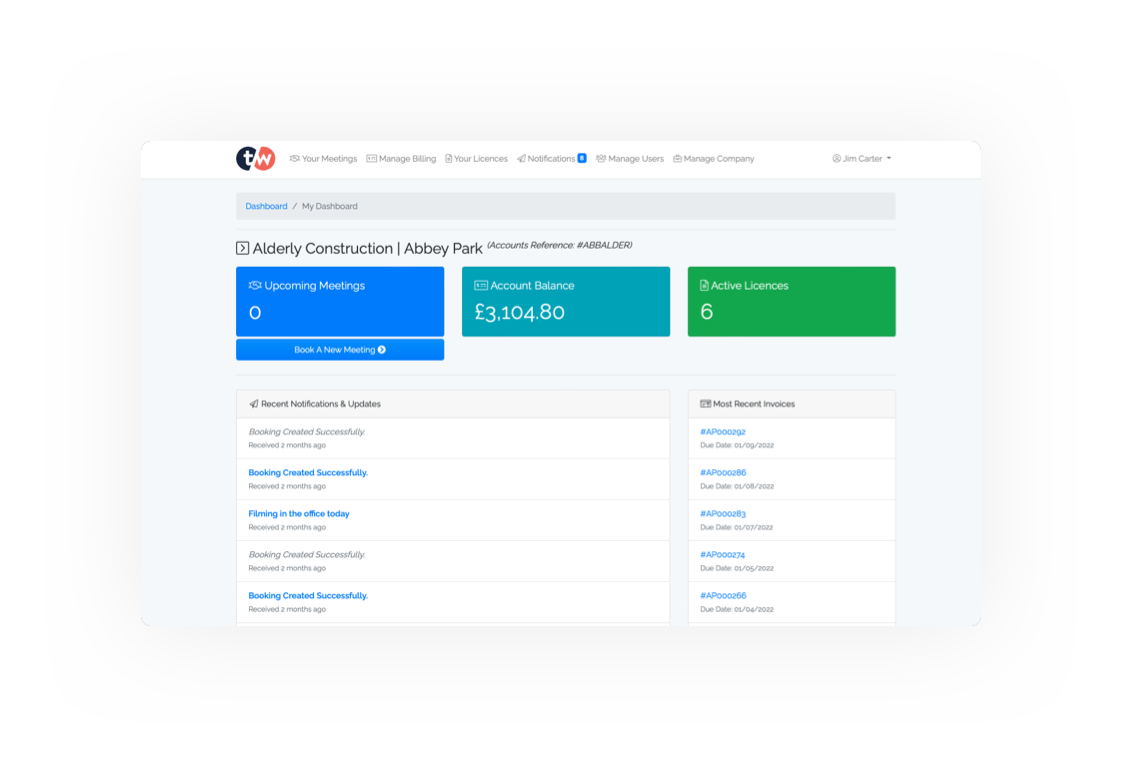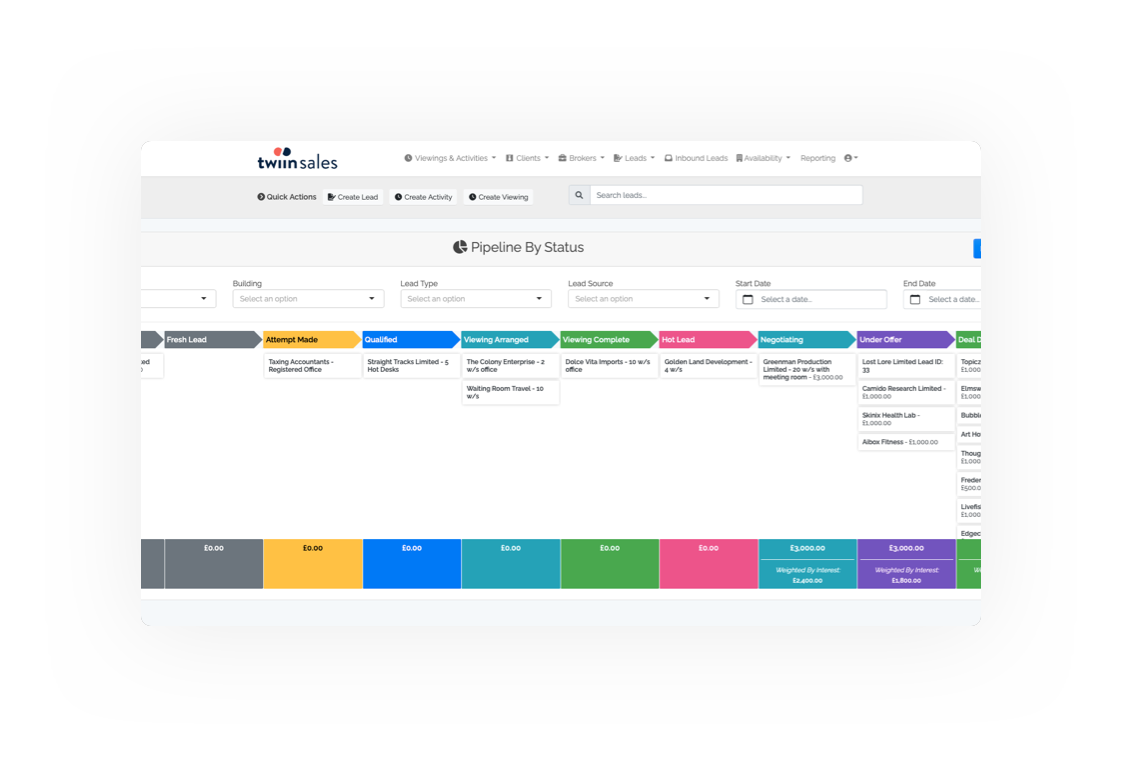 Manage your clients' company, contact, financial and payment information along with booking credits & discounts
Collate all related client information in one place
365 email integration for client communications
Add notes and upload documents for centrally available access
Manage and track client issues and feedback, maintenance, and facilities jobs, with this ticketing feature.
Create individual, batch metered charges prior to monthly billing
Import charges in various formats prior to monthly billing
View a history of all charges and their billing status
View your meeting rooms calendar and create and manage bookings on behalf of clients
Choose between fixed or flexible billing methods for monthly bill runs
Instant Invoicing enables you to bill any licence fees or unbilled charges and bookings, for an individual client, outside of the monthly bill run
Adhoc invoices and credit notes can be created and issued for additional items that are not licence fees or charges e.g. refunds, deposit top-ups
Ledger list view for debtors making credit control easy
Import bank statements for easy creation of bulk payments
Generate a Direct Debit file for upload to your bank (various formats available), and auto posting and allocation of direct debit payments to clients' ledgers and outstanding invoices
Automatic monthly statements for all outstanding balances
twiinportal card payments auto posting to ledger and immediate allocation to invoices
API integration or file export options for various accounting platforms (incl. Xero (API), Sage 50 (API), Sage 200, Quickbooks and more).
Create licence agreements using your own templates and manage through their lifecycle
Sign licences with either wet signature or e-signature (facilitated by HelloSign and included in the platform subscription).
Manage your renewals process on demand, in addition to automated weekly reminders
Extend and uplift licences manually or automatically
Give formal notice on licences
Give soft notice on licences for potential availability listing in twiinsales
Auto generate initial invoices for deposits and set up fees and initial licence fees
Manage billing schedules for free months or stepped fees
Void and duplicate process for incorrect signed licences, making it easy to reissue for re-signing
HelloSign documents automatically stored in the platform
HelloSign audit trail available in the platform
Send formatted email notifications to all client contacts (can be filtered by building, client type etc) via the platform to be delivered by email and in the twiinportal.
Full range of reports including client & contact, building management, debtors, billing, licence, occupancy, bookings, users and sales
Easily manage a range of information including company and building info, high level occupancy stats, your services and virtual services for billing and accounting, your meeting rooms configuration and your users access to buildings and functionality
Customisable email templates & licence templates
Default invoice, credit note and statement templates with some customisable areas
Leads can be received from brokers in an xml format for auto creation or can be manually created
Operators' sales mailboxes can be forwarded to twiinsales so all email enquiries are passed into the platform for review
Check for possible duplicates on receipt or manually at any time
Broker workflow for notifying brokers of acceptance, rejections, and overturns
Visual pipeline to manage your leads with easy navigation through the pipeline stages and dashboard showing users' upcoming activities
O365 integration for lead email communication, and calendar integration to sync users' activities
Viewings calendar for all buildings along with yy Activities calendar for all activities and viewings assigned to the logged in user
Lead audit history showing all stage changes and actions on a lead
Import leads into the workspace with all related notes and documents for client and licence creation.
Global search for leads, prospects and contacts including lost leads.
Customisable templates for viewings and broker notifications
Current vacant units with no active licence are listed and current vacant units with a future licence are listed with move in dates for short term vacancy
Units with current active licences that have had formal notice placed on them are listed
twiinportal users can book, edit and cancel meetings.
Copy invoices are available to view and download along with up-to-date statement of accounts
Licence agreements can be viewed and downloaded
Individual invoices or full account balances can be paid with a payment processor integration (Stripe or SagePay)
Clients can manage their own users, set the emergency and fire marshall contacts and update their own company details (excluding the company name).
The benefits for your workspace
A simple and straightforward interface ensures both operators and end users can do the things they need to do, quick and easily.
Seamless integration with your accounting systems
All the documents you need in one place, manage licences, contracts and room bookings easily
Give brokers real time information on the availability in your space.
Completely customisable to suit your workspace. Add your own colour palette and logos to personalise your experience.
All data is encrypted with a dedicated UK hosted server environment with GDPR compliance by design.
Pricing designed around your space. Whether big or small you'll get the best solution for your workspace
Your own dedicated server / instance. The economy of a shared solution without the security concern
Want to know more about the benefits twiinworkspace can bring to your portfolio?
Get in touch with our team for a chat and a demo.