The only workspace management tool you'll ever need. Operate, manage and grow your workspace all from one platform.
twiinworkspace is the workspace management platform that makes looking after clients easy and revenue growth a reality.
"When I first saw the twiinworkspace demo, I got excited and thought that this could actually work for us! I saw how it easy it was to use, and I knew that - with our varied level of technical skills in the team - the simplicity of the UX was something that would work."

"Previously we'd be looking at three days to complete the month end, now it massively reduces that because all of our licences are saved on twiinworkspace. Previously I'd have checked each one to ensure that the billed figure was correct. Now, once I approve the licence, I'm approving the billing for 12 months, so it hugely reduces the margin for error. And that's from a company who would have said that our billing accuracy was pretty good. So, if you're questioning your billing accuracy, then this will really make an immense difference."

"We spent a long time on procurement and it was important for us that the platform was going to be reliable, web based, and that it gave us the core functionality that we needed. It also needed to be simple to use with easy onboarding and training so our team could start using it quickly and confidently. We chose twiinworkspace as not only did it meet all of these criteria, it also gave us the option of adding extra features and functionality when we needed it."

"You can tell that twiinworkspace has been designed from within the flexspace industry as it's easy to use, places key information at your fingertips and is really tailored to help us run a successful workspace."

"It's very simple to use and very easy on the eye and caters for exactly what we need as a business."

Chadwick Business Centres

"Our whole management team really liked twiinworkspace as soon as they saw it. It's really user-friendly, simple and clear. twiinworkspace has a colourful user interface that really helps you understand how to use it. Plus, it actually does what we want it to. It has real wow factor!"
The benefits for your workspace
Effective sales lead pipeline management, additional revenue stream opportunities with external client meeting room booking and all client services on one bill.
Transparent pricing designed around your space. Large or small you'll get the best solution and fairest price for each of your workspaces.
Seamless integration with accounting systems and Office 365, streamlining billing and communications.
Save time and improve the efficiency of your on-site teams by allowing them to sign and manage licences and contracts, manage room bookings and run the end of month billing all in one place.
Reports that allow you to manage your spaces effectively day to day and for your investors to assess the performance of your workspaces.
All data is encrypted with a dedicated UK hosted server environment with GDPR compliance by design.
What are the benefits for your workspace?
Fill out the form below and our friendly team will get in touch.
twiinworkspace ORIGIN: potential user
We know that every workspace is unique, so twiinworkspace is made up of 3 elements allowing you to create a solution that's perfect for you.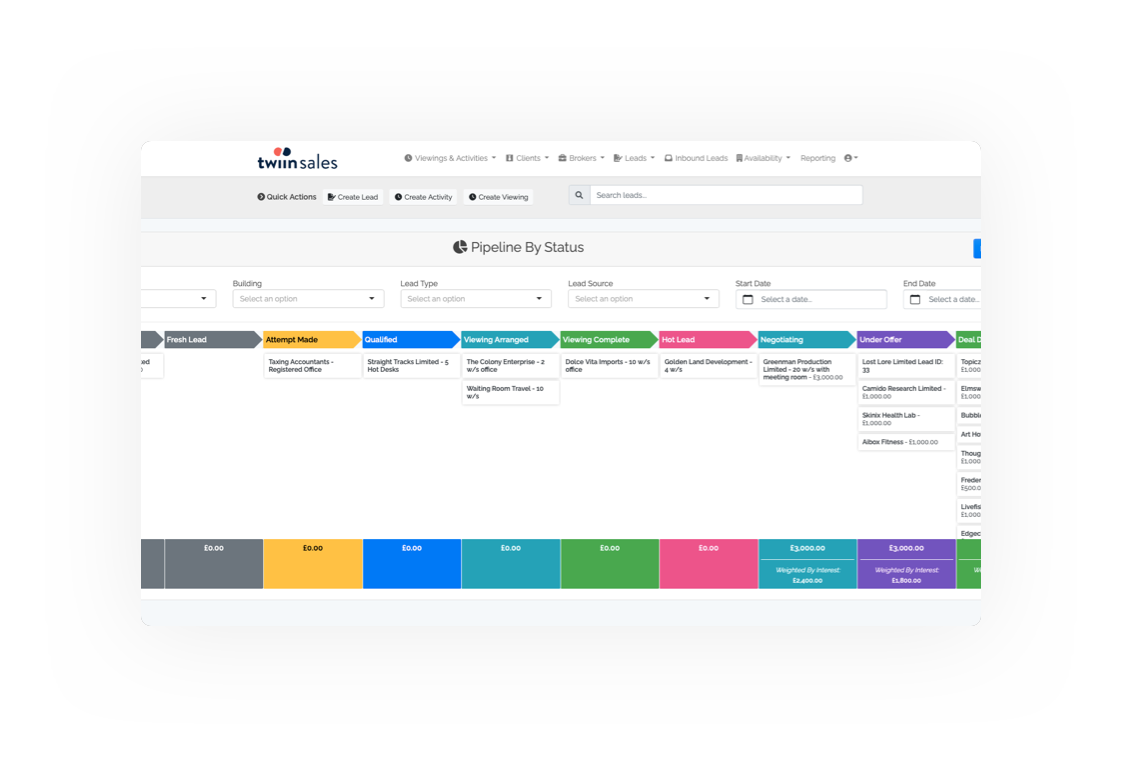 The twiinsales module allows the operator to receive and manage their sales process from initial enquiry through to contract signing. Key features include broker workflow for notifying brokers of acceptance, rejections, and overturns, clear easy to navigate pipeline, Office 365 integration for lead email comms and calendar integration, full lead importation, view current vacant units with no active licences and current vacant units with future licences plus many other features.
Leads can be received from brokers in an xml format for auto creation or can be manually created
Operators' sales mailboxes can be forwarded to twiinsales so all email enquiries are passed into the platform for review
Check for possible duplicates on receipt or manually at any time
Broker workflow for notifying brokers of acceptance, rejections, and overturns
Visual pipeline to manage your leads with easy navigation through the pipeline stages and dashboard showing users' upcoming activities
O365 integration for lead email communication, and calendar integration to sync users' activities
Viewings calendar for all buildings along with yy Activities calendar for all activities and viewings assigned to the logged in user
Lead audit history showing all stage changes and actions on a lead
Import leads into the workspace with all related notes and documents for client and licence creation.
Global search for leads, prospects and contacts including lost leads.
Customisable templates for viewings and broker notifications
Current vacant units with no active licence are listed and current vacant units with a future licence are listed with move in dates for short term vacancy
Units with current active licences that have had formal notice placed on them are listed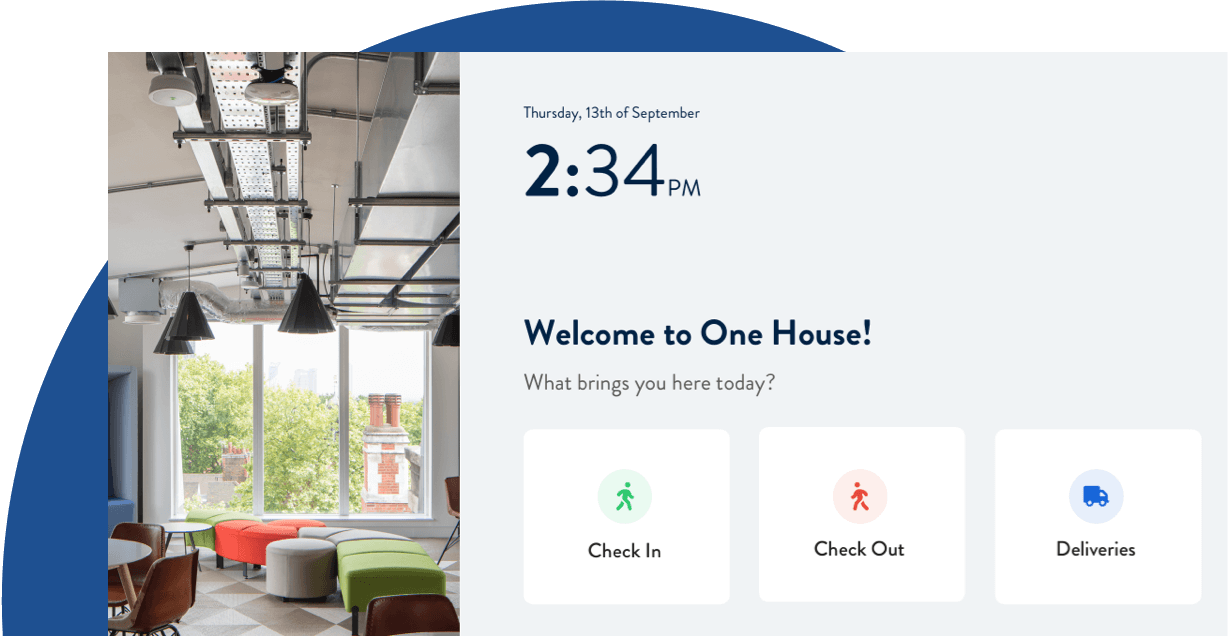 Collects the data you need through an intuitive member and guest check-in/check-out experience.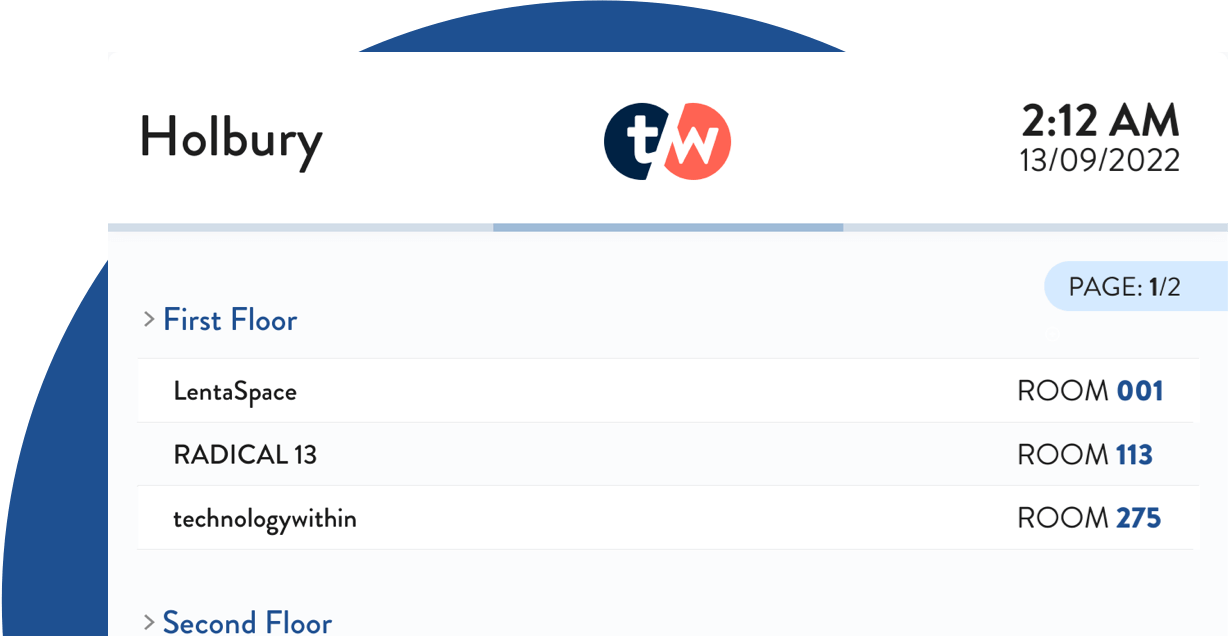 The professional way to present your building client list and ensure that its always up to date.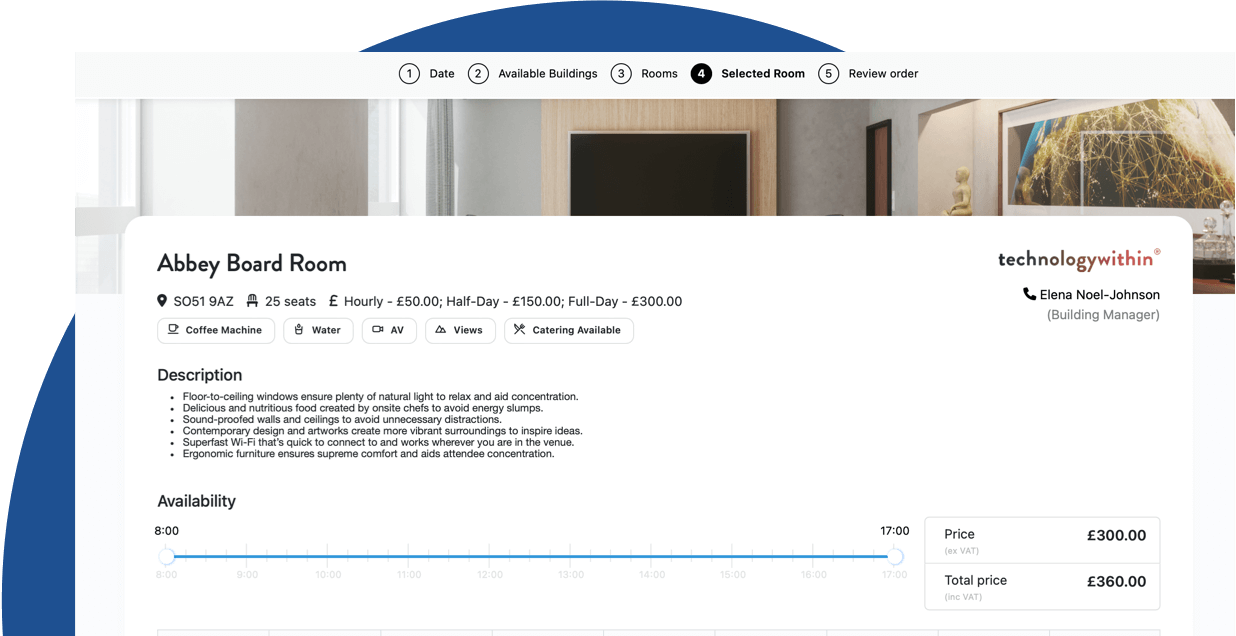 Improve your client meeting room booking experience and save your team time.
Want to know more about the benefits twiinworkspace can bring to your portfolio?
Get in touch with our team for a chat and a demo.