The network management solution designed for flexible workspace. A best of breed managed data bandwidth and WiFi service for shared workspace.
In today's interconnected and digital-first world, no business or professional would ever consider going somewhere to work without having access to a strong, stable internet connection. When equipped with the newest and most comprehensive technology on the market, today's commercial office environments can compete to provide their clients with flexible, dependable and easy-to-use workspace solutions. technologywithin provides the tools and services that allow flexspace operators and CRE landlords to level up their businesses through connectivity.
"The great thing about working with technologywithin and their twiindata platform is that it enables our centres to have their clients connected in seconds. twiindata empowers our colleagues to manage their buildings effectively with the reassurance that they are backed up by the friendly support team at technologywithin."

"technologywithin deliver the connectivity to our spaces. They work in partnership with us by not only providing the IT and voice infrastructure, but also the support and customer service that backs it up. Knowing that they share our ethos of delivering great customer service is key for us and we trust them to ensure that our clients are kept connected and happy."

"I've just never seen anything so easy to use in terms of controlling a 40,000sq ft building, 52 circa businesses within it, one dashboard to be able to control everything from their phones, to their WiFi, to their VPN connections, it's just really easy to use."
The benefits for your workspace
Allows corporate clients to deploy their own IT security within the workspace in a very simple and easy to use manner.
Can be increased by the addition of a second twiindata box in your comms room and a backup line if required.
Cloud or hardware solutions
Choose what suits you better. twiindata integrates with existing hardware and assets with our flexible approach.
Opex or capex payment options
A unique completely flexible pricing model – buy or rent, or a combination of the two – to suit your business.
Fill out the form below and our friendly team will get in touch.
twiindata is an advanced network infrastructure controller including firewall, IP router, switch management, WiFi management and bandwidth control tool designed and supported in-house by technologywithin to give controllable levels of internet access (handling speeds of up to 10GB) to multiple clients in a building whilst securely segregating their data from one another.
twiindata has a centralised cloud-based user interface, designed to allow non-technical site managers to perform complex network configuration with ease and confidence.
Hardware agnostic so compatible with many major switch and WiFi manufacturers
Allocation of public addresses
Configuration of port forwarding
NAT or passthru networks configurable at individual customer level (allowing customers to have "plug and play" setup or to have public facing connections to connect their own equipment)
Control of bandwidth contention levels, including dedicated bandwidth
Full switch port configuration and management (including port grouping)
Monitoring and reporting of both historical and live usage traffic
Remote monitoring of external line quality
Support for multiple cabling models – agnostic to network topology
Advanced troubleshooting tools for administrators (live connections, find MAC, wireshark, ARP and DHCP tables etc)
Configurable guest WiFi experience including customer branded splash pages
Secure WiFi for internal customers allowing access to own network and bandwidth building-wide (requires compatible wireless access point infrastructure)
Multiple levels of user access
Control panel for customers to allow WiFi password management and bandwidth
Configurable DHCP options and static ARP at client level
Monitoring of on-site equipment and external line status with configurable e-mail and SMS alerts
Support for multiple external connections
Support for resilient switch connections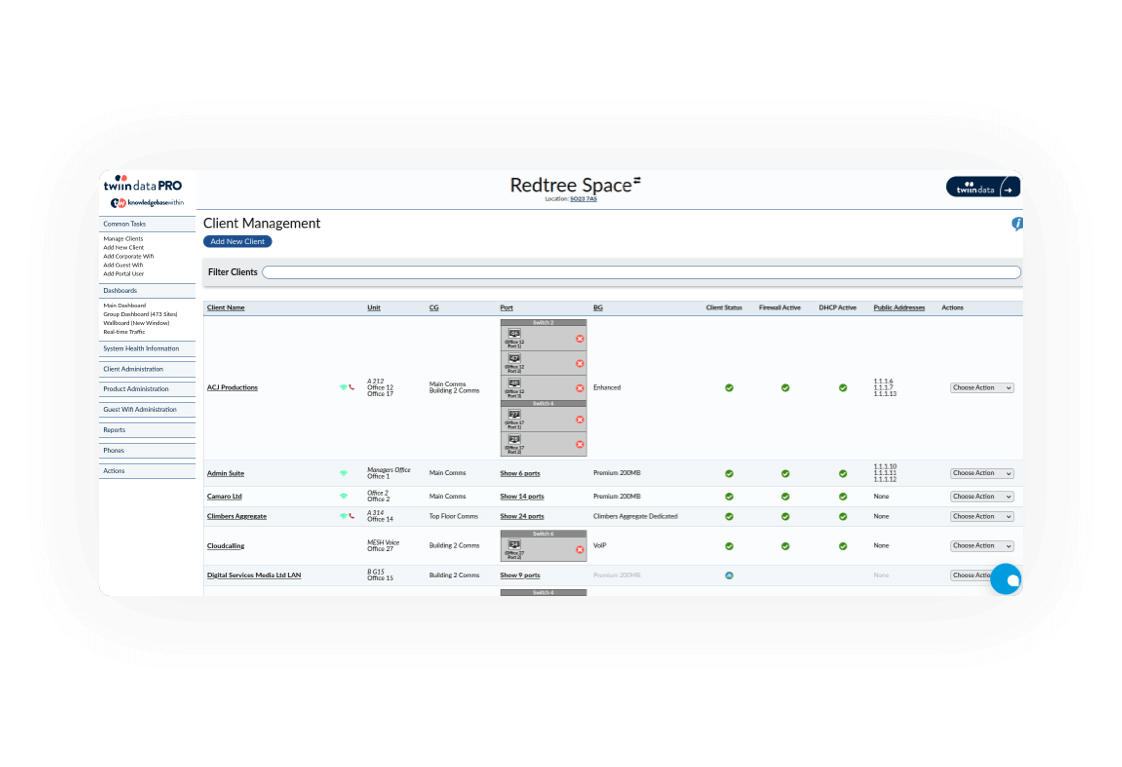 The twiindata pro view is designed to give building and IT management teams a complete picture of a client's connectivity performance and site usage plus full access to all technical tasks.
Monitor internet connectivity and onsite equipment performance
Review client internet usage and manage contention
Manage port switch configurations and management
Troubleshoot network issues proactively with advanced management tools
twiindata – the global flexible workspace bandwidth management solution
twiindata is the ideal flexible bandwidth management solution for multi-tenanted workspaces in all geographic markets. It's cloud-based solution can be deployed in any country with ease.
The twiindata interface, which allows front of house staff to complete the everyday bandwidth management tasks with ease, is also available in several languages, including Dutch, French, Spanish, German and Italian.
So, if you are expanding your portfolio into new markets and want one strategic solution to manage connectivity, this could be the answer.
With the increasing number of PropTech software applications on offer to manage your building, the challenge of making them all work together and training your teams to utilise them to create a great user experience is constantly increasing.
Our open-minded approach to integration means clients aren't locked into a single software eco-system and instead can choose solutions that suit their chosen business model. That's why we've developed twiindata to integrate with the leading workspace management software products on the market. So, you can benefit from best of breed internet bandwidth and WiFi management whatever workspace software you use.
By sitting twiindata beneath your chosen software, your front-of-house teams will be able to manage internet connectivity and workspace management activities quickly and easily through a single interface and offer an improved member experience.
"Integrating twiindata with the Nexudus platform, has created the best possible user experience for our clients, by allowing secure WiFi login and instant bandwidth upgrades. We didn't previously upsell bandwidth, so we are now better equipped to meet customer needs, whilst both creating a new revenue stream and saving on operational costs, so it's a win-win."
the complete data management solution, designed for coworking and small flexspaces, for one all-inclusive monthly fee.
the perfect managed internet solution for commercial real estate operators to manage multi-tenant workspace.
Want to know more about the benefits twiindata can bring to your portfolio?
Get in touch with our team for a chat and a demo.