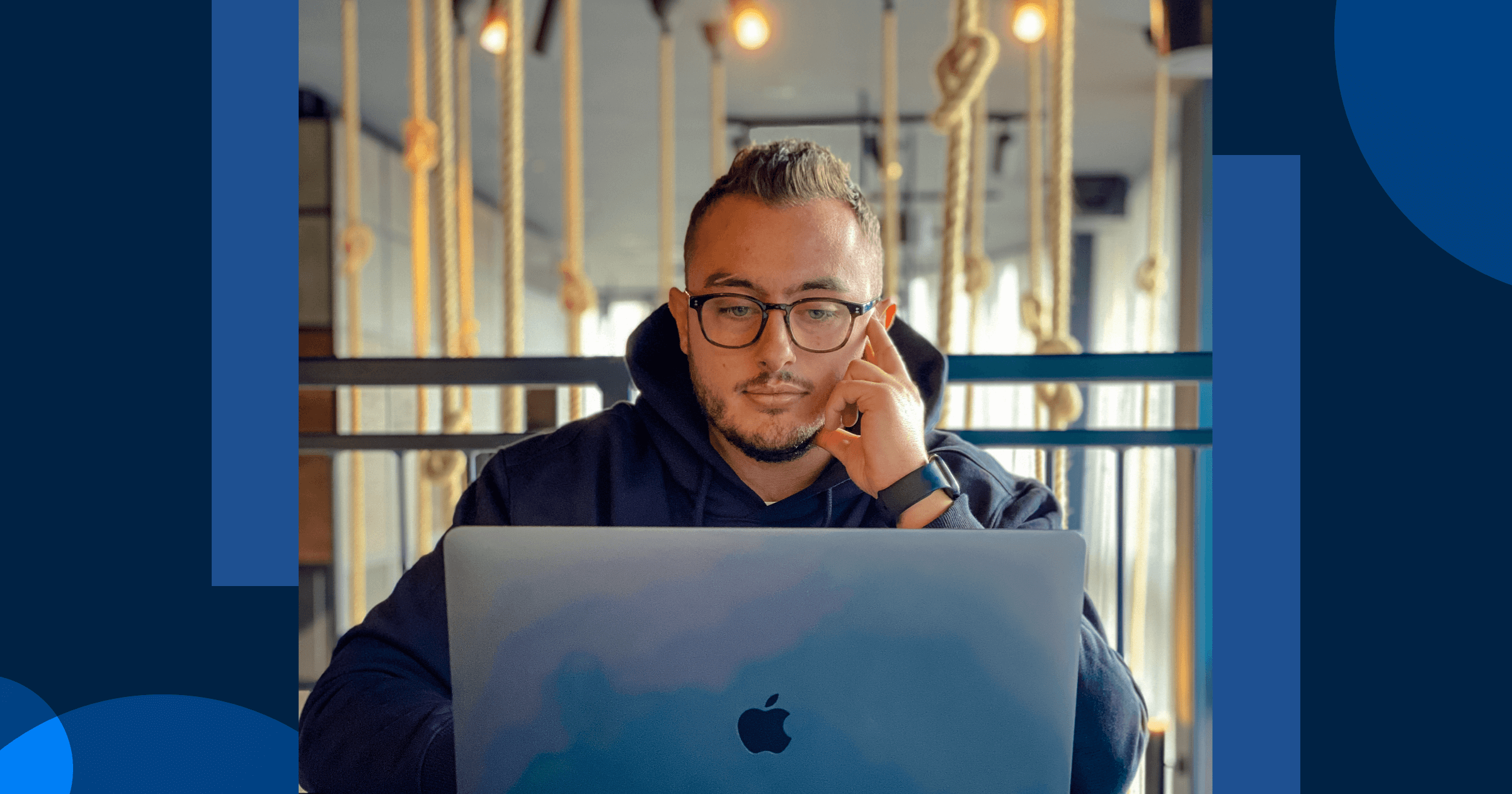 People are at the heart of everything we do at technologywithin. That's why we're always keen to showcase some of the awesome people who make up our team.
We spoke to Alex Podeanu, a Digital Product Designer at technologywithin.
1. Thanks Alex for taking some time out of your day to chat with us. 'Product' is integral to all we do at technologywithin but I would guess that most people don't think about the work and planning in getting that product to market- or working in a way that is user friendly. Can you tell us about your role at technologywithin as Digital Product Designer, what does the role entail?
I've heard that before! People don't really download an app or integrate software into their lives and think about the processes that have been put in place to make it aesthetically pleasing and functional- but they certainly notice when these elements are missing! That's where I come in, I work closely with the marketing department and the development team in making the products look good and more user friendly.
I really enjoy designing and improving the interface of products and then testing the user experience to make sure the product is seamless and easy to navigate.
Another aspect of my role is to ensure that the branding is always respected in terms of graphic design, not only across web design but for example, when we have a conference I'll design the flyers or pamphlets. At the moment I'm also working on redesigning parts of the website. There are so many elements to my role and every day brings new and exciting challenges- no time to get bored that's for certain.
2. So Alex, it sounds like you have a job that you both enjoy and get a great deal of satisfaction from, was it always your plan? How did you start working with technologywithin?
Well it's really very interesting, I moved from Romania to the UK to study where I went to Solent University, Southampton and studied web design and development.
I was part of a team that worked on a project to redesign a company website during my second year of university – as part of my studies. That company was technologywithin – or the company that it was before the merger, ip-Xchange. I loved it, the team was amazing, and it gave me a real insight into the industry and allowed me to get that all-important work experience.
As it turns out, this project then led luckily to a summer job, then a full time job – and here I am today. I think what my journey shows is the value of work experience. Certainly I was lucky in that technologywithin is an amazing company to work for but that gaining work experience via the Solent Creatives initiative from Solent University really helped with getting onto the employment ladder.
3. We're speaking to you from Romania, we know technologywithin embraces flexible working, but remote working is becoming more popular post-pandemic for many. How do you find it?
The pandemic made many, including myself, reassess how and where we live. When COVID first hit I thought it would be good to be around my family for a while, and I'm still here. This was never an issue for me and my role or technologywithin. I think I am able to say that all of the team have a very special relationship with TW because they've always helped us to find a solution that works best for everyone and that is exactly what they did for me – and so now I'm working remotely.
Human interaction in a workplace is important – it is good to have some discussions face to face which helps to keep the working relationship intact, so I still come to the UK regularly to meet in person too. I would also say that nothing has changed for the worse; in fact I feel that I'm even more productive than ever!
4. So once people hear your job title, what do they ask you most? Do they have any idea what it entails?
Most people think I'm a graphic designer, or design websites to be honest, I think a lot of people still don't understand what exactly a digital product designer does – it's a bit easier sometimes to just go along and say yes, I'm a graphic designer!
Actually I really enjoy explaining the intricacies of what I do and how it (hopefully!) positively impacts everyone who comes into contact with anything that I have had a part in creating at technologywithin. When I talk about and show how important it is to have a nice and easy to use interface and platform and a product that gets them from point A to point B easily and quickly, then people start to get very interested.
We all hate having to try and figure out how to work clunky websites and apps and when I say that I work to make sure that all of our products are the opposite of that they 'get it': they can appreciate how they value this in their own dealings. Basically what I do is all about making the customer experience the best it can be- knowing your audience in detail, what they like and want – and putting that into practice.
5. Last thing then Alex, what advice would you give to someone looking to enter your field of work?
This is easy, for me it's a passion; I've been learning about and practicing using technology since I was about 12 or 13! I was self taught from YouTube and now I do it professionally. I love what I do and don't see it as 'work'.
The downside, of course, is that I can rarely say no to a project or extra work! My advice would be if you really love it then you should do it, and believe in yourself.
When it comes to my specific field, the actual work and the creative process required by projects can be very time consuming, which I think is useful to be aware of before entering the field. It's not a matter of having an idea and pushing a few buttons. The devil is in the detail and you really do only get one chance to make a first impression when it comes to your customer's experience.
In March 2022, we spoke to Kinga our Head of Finance at technologywithin, you can read it here.
Subscribe to our newsletter
Connectivity and workspace management services that empower operators and landlords to grow