10 things we learnt at GCUC UK 2019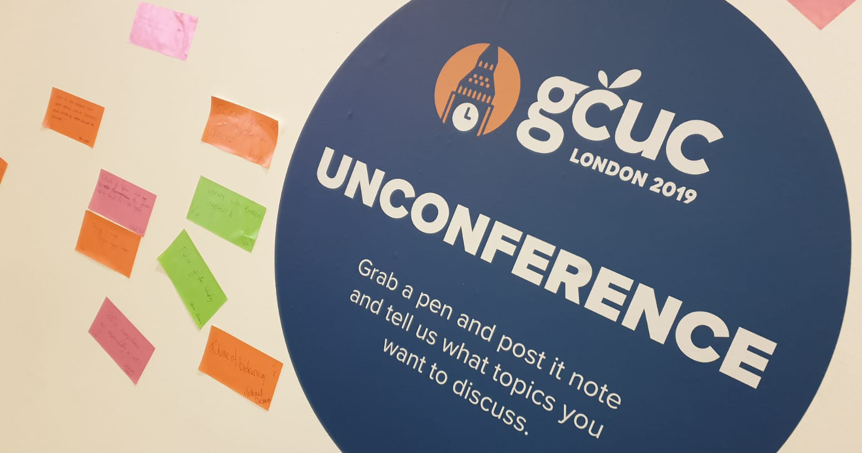 GCUC UK 2019 – We got juicy in London again at the second GCUC UK event. One day of conference followed by the second day of unconference meant that we had a fantastic opportunity to listen, learn and network with the UK's coworking and flexible workspace community. We wanted to share what we learnt during our time at this awesome event.
1. Coworking trends in 2019
Liz Elam, GCUC Global founder, opened the event by giving her take on coworking trends in 2019, including the higher importance of mental health and wellness programmes, the feminisation of spaces in term of both the physical space and the ancillary services (e.g.childcare.)
2. #spaceasaservice – 'The billion dollar hashtag'
Anthony Slumbers, the event keynote speaker and industry expert examined the importance of the 'billion dollar hashtag' – #spaceasaservice. He stated that businesses don't want an office; they want a productive workforce. Automation will mean that some tasks currently carried out by humans will be done by machine. However, while machines are great at some things, they can't create like humans can and we will still need that creativity.
3. What can coworking learn from hospitality?
During the next session, What can we learn from the hospitality industry? We learnt that staff choice is key to your brand, they embody your brand personality and coworking spaces can learn a lot about customer experience as a part of the service provided in the hospitality industry. Also, Matthew Bell, CitizenM Hotels, said that hotels rely less on the outdated stars rating system and more on peer to peer advocacy, which coworking can benefit from.
4. Coworking by numbers and hybrid space
In the Coworking By numbers, James Rankin, The Instant Group, shared the insight that there are currently 6,000 flexible workspaces in the UK but 4,000 providers. So, whilst the big brands are growing they still only have a small market share. The demand for hybrid space (a mix of coworking and private offices) is increasing by 25% in 2019. We also learnt that 80% of the UK population live within 30 minutes commute of a flexible workspace. Carsten Foetsch, revealed that 52% of coworking spaces are profitable but if you are have been open more than a year, have over 200 members and have hybrid space the % increases to 74.
5. Breaking boundaries in coworking and getting the fundamentals right
During the Breaking Boundaries in Coworking session we were told to find your magic, make the marketing speak reality. Curate your space, the detail – light, scent, sound. You must watch your clients to learn how they use the space. However, if the fundamentals aren't in place, the rest doesn't matter. Tania Adir, Uncommon, said "Clients have moved to our space because they just want to have a good internet connection and a good strong infrastructure."
6. Growing a strong flexible workspace brand
From the Breaking Boundaries panel we also learnt the importance of growing a strong brand without imposing it blindly in new markets. It's not all about London as 2nd and 3rd cities are all growing, to a lesser extent. However, you need to create a new proposition tailored to each local market to succeed. Melissa Ablett, CIC, said the same applied to extending their brand overseas, extending their American entrepreneurial model but adapting to the local customs and culture. (e.g in Tokyo clients could be more risk averse and privacy is a key issue). Tania Adir concluded with explaining how clients need to create their own identity in your space.
7. Defining the new way of working
David Kinnear, essensys, as a part of The Defining The New Way of Working panel, raised the valid point that we still need to solve the friction issues with technology – multiple access cards, accounts and payment methods just to get to the office – to improve the user experience in the future. Katrina Larkin, Fora, underlined how important it was simply to keep the communication channels open with clients to improve service, to allow them to define how much service they want, or not, to keep the flow of their day moving forward.
8. The Office Space in Town story
The Office Space in Town sister and brother team of Niki and Giles Fuchs shared the secrets of their longevity in the sector. "Love your staff" was Nikki's advice, whilst Giles was extolling the virtues of owning your own buildings to avoid a clash of priorities with landlords.
9. Is today's office fit for purpose?
Area and Instant presented their new research, which asked whether Today's Office Is Fit For Purpose? The key findings of the report were around the impact on productivity of factors such as noise and lack of privacy in open plan coworking environments. Our own Chris Male provided great advice on utilising technology to minimise these issues, "To enable to work in all areas of your space, including outside, take expert advice from suppliers and plan connectivity at build stage."
10. The role of the broker and flexible workspace
The final session of the day, The Role of The Broker, saw Natasha Guerra of Runway East explain how operators continue to be reliant on brokers to hit breakeven occupancy. However, whilst they expect apps like Hubble HQ to become more commonly used for smaller transactions, clients would still have a heavy reliance on face to face broker support to choose larger spaces. Lucy Watts, explained how Instant had reacted to the market demand for more data, insight and overall transparency.
Want to find out more?
Give our friendly team a call to find out more about GCUC UK and the current flexible workspace market.
Subscribe to our newsletter
Connectivity and workspace management services that empower operators and landlords to grow