What are the different types of flexible workspace?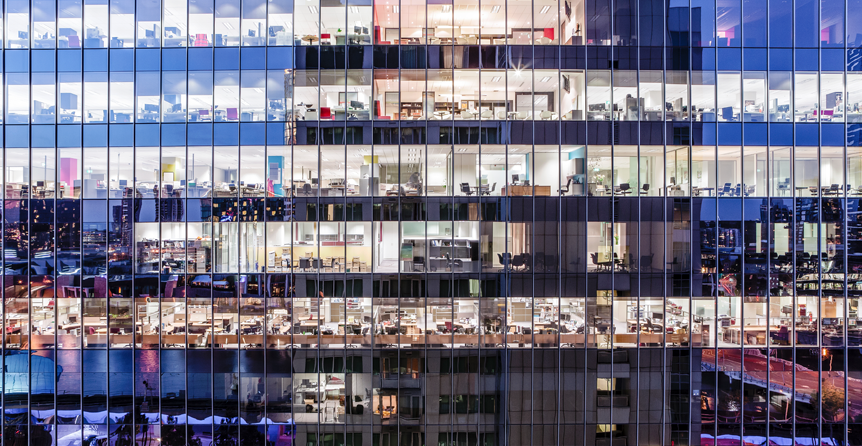 There's a huge range of options when it comes to finding the perfect flexible workspace, whether you're a full-time freelancer, large corporation or just-launched start up. Knowing the difference between the range of flexible workspaces available can help you choose the best space for your company. Finding that perfect workspace will help improve productivity, allow you to network with others in the industry and create a positive environment for your employees.
Let's take a look at the different types of flexible workspace available.
Business Centre
Business centres are a great option for companies who have not yet set up a permanent office. These are managed offices usually in a large complex, and businesses can usually rent the offices long or short term.
Business centres can be found anywhere from large cities to the outskirts of small towns and even in more rural areas. They cater to all types of businesses, from large organisations to smaller start ups, and they are always equipped with a strong and reliable internet connection. Larger business centres may even have a canteen, gym, cafe and much more.
Business centres are usually very flexible, and companies can choose from entire floors to themselves or shared spaces with others.
Serviced Office
A serviced office is a fully equipped office. These are ready to use, and require very little to be brought in by the clients, unlike conventional offices which often come with a whole host of hidden costs.
Serviced offices are usually flexible, cost effective, and have access to a kitchen stocked with tea and coffee, a lunch area and meeting rooms. They'll also have a daily cleaner, a reception, and a strong, fast and secure WiFi connection (if they haven't then speak to us!).
Serviced offices often offer more privacy than coworking spaces so, like business centres, they are ideal for companies who want the option of having their own private space.
Coworking Space
Coworking spaces are workspaces that are shared between more than one company. Although there are still private offices in coworking spaces, you may find up to 10 businesses sharing the same floor. This is great for networking, socialising and there's evidence to show that this type of workspace can even increase productivity.
Coworking spaces are ideal for small businesses, and they should be equipped with a strong and secure WiFi connection, as well as all the usual facilities such as a kitchen, showers and lunch area.
Virtual Office
A virtual office provides the services of an office without the actual physical space. It can give your clients the impression that you have a fully-fledged office of your own, allowing you to simply hire the bits you need, when you need them.
Depending on what you require, you can hire a prestigious business address and telephone number, and a virtual receptionist who can answer your calls in your company name, deal with customer enquiries and forward calls as required. As many virtual office services are provided by companies that run serviced offices, you can often also hire real life temporary office space and meeting rooms by the hour or day for when you need to meet your clients in person.
The Non-Negotiables
Whether you're after a business centre, serviced office, flexible office or coworking space, there is one non-negotiable; a strong, reliable and fast internet connection. Flexible workspace software these days is usually excellent quality, and a fast internet connection is now seen as an essential utility across all workspaces.
Whatever the space, we can connect you
Wherever you work and however the flexible workspace is defined, we can deliver a connectivity solution for it. Working with us is easy and straight forward. Just speak to our friendly team today.
Subscribe to our newsletter
Connectivity and workspace management services that empower operators and landlords to grow