Portal Business Centres – FlexSA award winners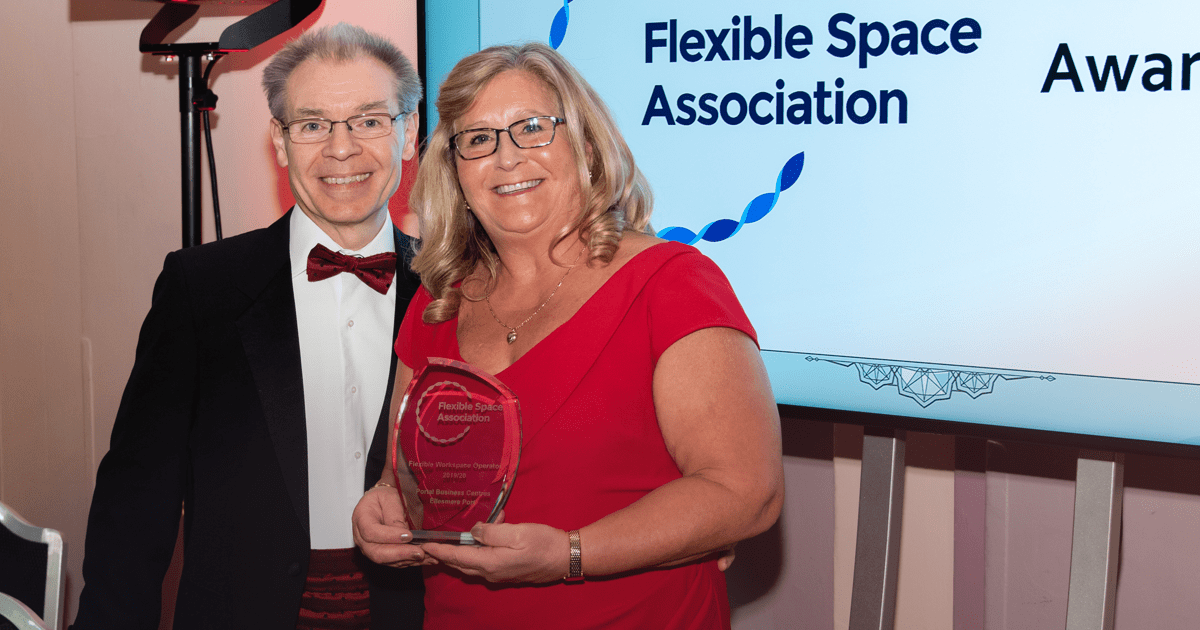 Portal Business Centres: The story behind being a FlexSA award winner
Portal Business Centres, a key client of technologywithin, collected the award for Flexible Workspace Operator, 1-5 sites at the FlexSA Gala Dinner Awards 2019, held on November 29th at The Sheraton Hotel in London.
The awards are judged purely on nominations from the company's clients, who have taken the time to write meaningfully about how their workspace enables them to grow their businesses.
Sallie Maskrey is Managing Director of Portal, who have three sites varying from 8,000-16,000 square feet in Warrington and Ellesmere Port in the North West.  Reflecting on why their customers had nominated them, Sallie believes that, "We have always tried hard to foster a community feel, treading the fine line between being too intrusive; but not leaving clients to feel alone behind a closed office door. We've found a balance between the two, organising events and bringing in outside suppliers that we think will be of interest."
Portal Marketing Manager, Yvonne Crolla, firmly believes that communication is key, "Every member of staff – from the management team down – knows the importance of taking the time to talk to clients. The benefit of having just three sites means that Sallie is visible to all clients and they feel that decisions are made quickly, through a short chain of command. Clients also identify with what is in effect another small local business and see the same drive for growing their businesses in Sallie and the team."
Sallie is also convinced that, "The rapport that Portal have with technologywithin has been important to our success, ensuring that our team stay ahead of the technical curve and are able to upsell effectively." technologywithin account manager, Chris Male, provides face to face training and clear written guides to ensure that the Portal team feel confident in packaging the internet services and can trouble shoot any issues quickly.
Such a great approach to customer care has resulted in client loyalty as well as award nominations. Several clients have been with Portal for over ten years and their longest for an amazing twenty-two years.
Portal have shown the same kind of loyalty to technologywithin (with whom they have worked for over four years, as a former client of ip-Xchange). Together the two companies have proven that maintaining a focus on helping your clients grow their businesses really does deliver rewards.
Subscribe to our newsletter
Connectivity and workspace management services that empower operators and landlords to grow