Our approach to social impact is multi-stranded. Our priority is to look after our people, our community and our clients.

At technologywithin, we always say that our people are our brand. From the first sales call, through installation, to the everyday interaction with our support team, we are confident that our people will listen to our clients and offer great service. Ensuring that our team feel supported, recognised and rewarded is the way that we do this.
We treat our people fairly, offering decent compensation and benefit packages, including medical cover and regular training. Our employment contracts offer home and flexible working where needed and our employee handbook includes clear policies on everything from mental health support to whistle blowing.
Having a good working atmosphere and a sense of trust amongst our team is key and we achieve that through a flat organisation structure, an informal and open approach to communications and a belief that good ideas come from anywhere. We also know what's important to our team – regular pizza lunches and good quality branded hoodies – and make sure that we deliver!
Our average length of service is over 5 years
Our focus puts humans before machines. Technology is the facilitator to make people's working lives better. Our team creates a genuine partnership with every customer. 
We value professionalism and control, but being corporate, formal and unimaginative is not our style. 
Our team are solution finders and problem solvers. We strive to find feasible, functional and practical technology applications. 
Throughout the entire journey, we ensure reliability and quality of service are a top priority. 
Growth and expansion are tied closely to business change and technology innovation. We align the two to deliver efficient, competitive, long-term results.
Our approach makes connectivity convenient and accessible. We deliver impressive digital capabilities through a simple, easy-to-use software interface.
Our engineers visit customer sites to install and maintain equipment, so we have both policies and training in place that ensure our team work safely, to protect themselves, our customers and their clients. These are independently audited annually and always available to our clients.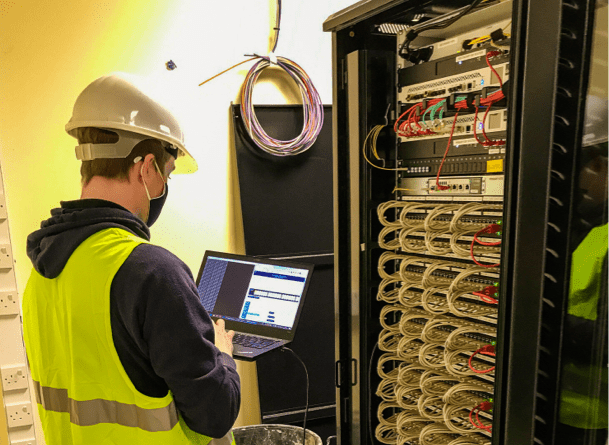 We choose to support our local community through our chosen charity is
The Society of St. James
who support homeless people in Hampshire (home to our Head Office).
We have supported them for over 10 years and to date, we have donated over 1200 items of office and communications equipment to Jamies, their linked organisation, which recycles and sells it to raise vital funds.
We also support the charity in other ways, such as donating to their Christmas appeal in lieu of sending Christmas cards to our clients. 2021 also saw us host the first of our annual fundraising Bike Rides, where the team and our clients rode 100km around the New Forest.
Our volunteering policy also allows team members to volunteer for a charity of their choice each year.
As part of a large international group of companies – CP Holdings - We have all of the policies in place that you would expect of an ethical company: Modern Slavery & Bribery policies, Disability, Gender, Sexuality and Race.