Ten things we learnt at Women In Flex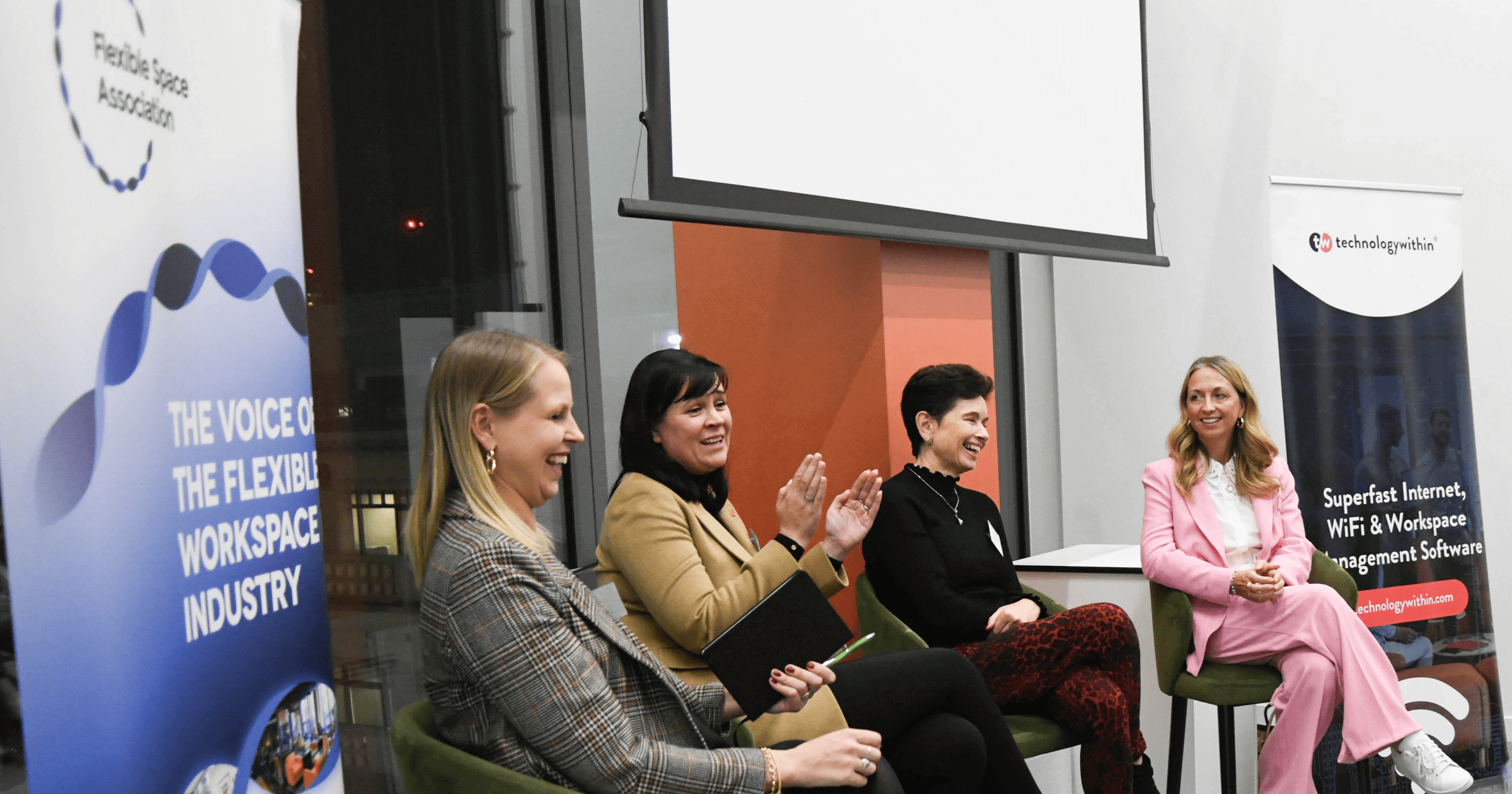 The Women In Flex event, held on November 2nd, was aimed at inspiring more women working in the flexible workspace sector to progress their careers to senior level and to engage them in debate about the current market and how we can best adapt to meet client needs. We were delighted to develop the concept in partnership with FlexSA and pleased at how well that was received by our moderators, panellists, and full house of attendees.
There were so many personal stories and top tips shared that it's difficult to boil it down to just a few ideas, but we have summarised as best we can!
Zoe Ellis-Moore, CEO and Founder of Spaces To Places, moderated our first panel, Women Inspiring Women in Flex.  She was joined by Newflex People & HR Director Lisa Richardson, Orega's Head of Operations, Polly Bryan and Gemma Meale, Director, People and Culture at Huckletree, who all had inspiring personal career stories to tell.

Have a plan
Gemma shared that she has always found it helpful to have a clear plan and goals for her career, such as a three-year plan to become an HR Director in her twenties. Completing a non-exec director's course was also really beneficial for her development.
Lisa's experience here was that picking three mentors along the way helped her shape how she progressed.  By aligning herself to them and emulating their best traits she learnt some great lessons, such as thinking about her personal brand.
Education is useful but experience is essential
Our panellists had a mix of educational background, but most had worked in a variety of roles, from receptionist upwards and felt that the understanding that this had given them of the business was important for their progression and confidence in their abilities.  Polly felt that people skills were key to success at operational level in flex and that those couldn't be gained through further education. Personally, her continual curiosity to learn about specific areas of interest in the business had been a great substitute for a formal education, equipping her with the knowledge to grow.
Be brave
Progressing means putting yourself out there and Lisa's top tip was to confront what scares you about taking the next step in your career.  For her it was going back to education and getting a Master's degree, a step that made her feel uncomfortable but has ultimately supported her progression. Her view is that the first step of any new challenge is always the hardest but take it and those around you will help.
Gemma shared that the greatest growth comes through being humble enough to ask for constructive feedback; by asking, what can I work on? And by accepting what comes back and working on it.
Ask for more responsibility
Polly believes that one of the key reasons for her progression within Orega was that she has constantly asked herself, "What more can I do?" Once she had mastered running a centre, she volunteered for more projects, then opened a centre in Europe. Her top tip was to raise your hand and volunteer for every opportunity.
Find a culture where you thrive
All panellists agreed that finding the right place for your talents and style was key for happiness at work and building the career that you want.  Polly cited the Orega management team's open-door policy and how it had empowered her to share her ideas for improvement and make suggestions for projects she wanted to run with.
Gemma also thought that a great culture was one where others will champion you.  This can be a helpful steppingstone to progress, giving you profile and opportunities to try new things.
Our second panel, Rising To The Challenge of Managing Flexible Workspace in 2022, hosted by Instant Group Executive Director of Operator and  Landlord Solutions Lucy Watts, focused more on the changing nature of client needs and how operators are dealing with them.  Lucy was joined by panellists, Sam Mardon, Chief Customer Officer for Space and Landmark, Jane Erasmus, Sales & Marketing Director for UBC and Alex Livesey, COO of Clockwise – who boast a collective 65 years of sector experience!
There is no one solution
Sam's key learning after reviewing The Landmark customer experience strategy is that there is no one size to fit all when it comes to proposition or service. Treating clients as individuals and thinking about how to make each one happy was the best way to deliver overall customer satisfaction.
Jane agreed, noting that the influx of corporates into UBC's regional spaces had created a new set of customer requirements over the past 18 months, such as physically branding office spaces. Sam also shared that with corporates, initially it's about educating them on what flex can provide, versus lease.
Your team are your superpower
Alex has learned that many of the best new ideas come from the ground up at Clockwise and has incorporated that into her management style, empowering her team to take ownership of their space and try new things, without the fear of failure.
Sam agreed that team culture is key to your brand at centre level.   Their personality creates the atmosphere, so empowering them is essential to creating happy customers.
Nothing stays the same
Alex's belief is that post pandemic change isn't to be treated as extraordinary.  Client needs will continue to develop, and we cannot expect what we are doing today to continue to work in the future.
Everyone was up for testing new ideas, but very much led by what customers wanted, rather than for the sake of it.  Start by creating mutual empathy with clients to understand what they want.
Shiny isn't always better
The reality of flexspace is that some of us are working with older buildings and the budget for refits isn't always available.  Jane was clear that going back to basics was the key in the current market.  As a multiple winner of FlexSA Customer Service Excellence awards, UBC always focus on the cornerstones of hospitality, taking care of the details of the client experience.
Alex agreed that bright white walls and bright lights of new spaces did not necessarily create welcoming workspaces.  With clients having become used to the ambient lighting and comforts of home, a more homely approach was important in the current market.
Everyone is struggling with Monday and Fridays!
Across the panel and the audience there was universal agreement that occupancy and meeting room bookings were down on Monday and Friday and changing that is a real challenge. Jane shared that adding networking events on Fridays when clients were quieter themselves, had enjoyed some success with encouraging them to come into the office. The right mix of space to support different working styles was considered key to five-day occupancy. The middle of the week might require collaborative space, but quieter days might mean phone booths, or individual coworking desks.
So, we hope that you're as inspired as we were.  Thanks go to all of our panellists and moderators and our hosts for the evening, our clients Newflex in their beautiful auditorium at XCHG, 22 Bishopsgate. Hopefully see you next year…
Read more about the event here.
#womeninflex

Subscribe to our newsletter
Connectivity and workspace management services that empower operators and landlords to grow