5 things we learnt at the FlexSA 'Managing the return to flexible workspace' webinar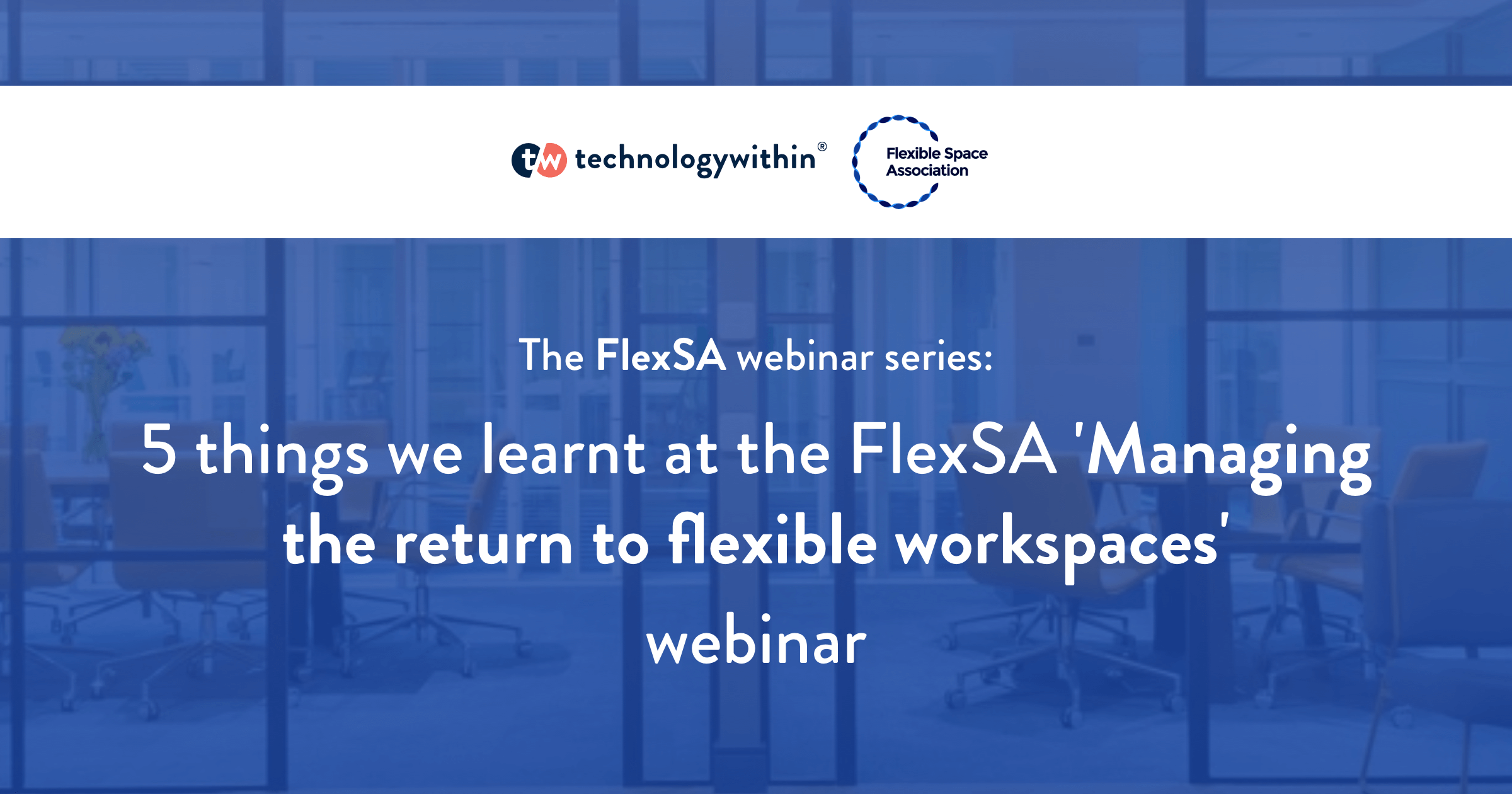 The next in the FlexSA webinar series focused on operators and how they are adapting for the return of clients to the workspace following the COVID-19 restrictions. Alongside Jane Sartin from FlexSA we heard from FlexSA Chairman and Head of Business & Corporate at The Deep Business Centre, Freya Cross and FlexSA Board member Richard McVay who is Vice President for Operations in UK and Ireland at IWG. This gave us the benefit of two viewpoints, the independent operator and the multi-national one.
Here's our five key takeaways from the webinar.
Preparation has been key
Freya said one of the most crucial parts of preparing for clients' return was the communication they had with them beforehand. By finding out what their expectations and concerns were, Freya and the team at the Deep were able to make sure their preparations enabled clients to be more confident about returning to the space. Richard also shared how IWG's approach had included setting up a central helpdesk to support their centres in providing advice and government approved guidance. This ensured that they had a consistent approach across their large portfolio.
A standard approach balanced with local knowledge
While it was important to have a consistent approach with the guidance and advice, Richard told us how IWG had empowered their centre managers to think locally when it came to risk assessments and assessing their properties safety. Their portfolio is mixed, they own some centres and partner with landlords for other sites. Therefore this 'local-centric' approach really helped them to make sure that all stakeholders would be satisfied and confident in their approach to welcoming clients back.
Other centre visitors need to be considered
While clients are the priority when it comes to returning to the workspace, consideration also has to be given to others who visit. Both Freya and Richard discussed how they were dealing with clients who had a lot of visitors. Managing the flow of visitors is an important factor and again, communication has been key. Both speakers said that by engaging with these clients it helped to prevent any issues and strengthened relationships with them.
Increased interest in space outside of large cities
Richard said that they had started to receive a lot of interest in their properties outside of major cities. Prospective clients are keen to avoid using public transport and instead are looking for locations they can travel to by car.  However, central London seemed to be the exception, with their locations also seeing an increase in enquiries. This is resulting in a large amount of virtual tours of the properties, as potential clients view space without having to physically attend in person.
Renewed optimism
Both Freya and Richard found reasons to be optimistic for the sector. Freya said they had seen a number of new enquiries for space from single users looking to move away from home working and also larger companies who are reviewing their current operational costs. Richard acknowledged that the economy as a whole was facing a tough period but that the sector has traditionally weathered these economic storms by offering businesses what they need. The sector provides businesses with flexibility, scalability and agility. By offering these key attributes, Richard felt the sector would continue to grow.
Stay in touch
Overall it was another great FlexSA webinar. As always thanks to both Freya and Richard and also to the team at FlexSA for organising the webinar. If you'd like to get in contact with our team to discuss any of the topics from this webinar, click here to say hi.
Subscribe to our newsletter
Connectivity and workspace management services that empower operators and landlords to grow