Technology for successful workspaces
Our products come together to offer you a flexible and future proof solution for managing the next generation of workspace.
The complete workspace management solution from lead to billing.
No two workspaces are alike and your clients needs and expectations are always changing. Our portfolio of services are customisable to empower your clients and help you maximise returns.
Our clients see us as a trusted partner – they bring us in at build stage of a new site to help them plan the most efficient flexible workspace with the highest quality WiFi, internet and software.
What sets our products apart is the level of commitment and customer service our technical support team brings. That's why, every day, 15,000 companies rely on us to keep them connected.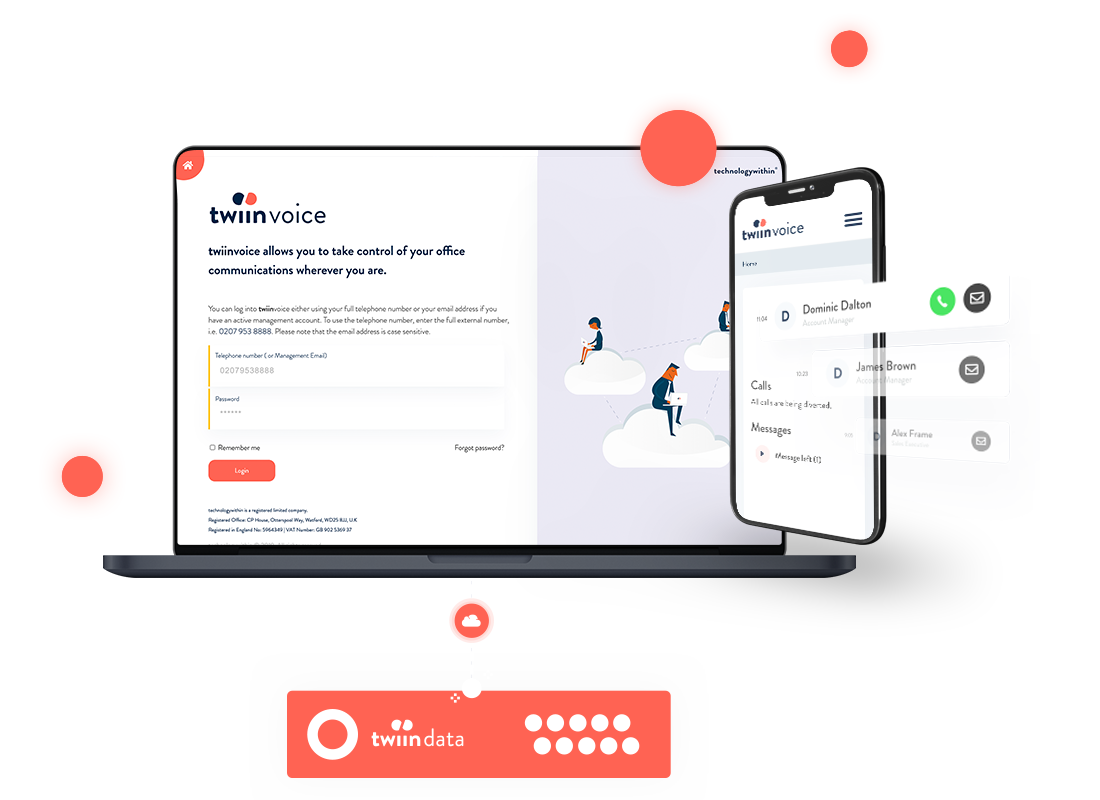 Making the technical stuff easy to manage is what we do, so let technologywithin empower your workspace.
Tailored solutions for every workspace
The workspace network management solution
Complete control of your network
Generate additional revenue from your investment
Easy to use interface, making management simple
Grow your workspace with one simple tool
Easily integrates with your existing systems
End to end client management
Feature rich end client interface
Take control of your office communications
Manage your voice services through one simple interface
Set diverts, check voicemail & teleconference easily
Use our simple app to take your workphone with you
"The great thing about working with technologywithin and their twiindata platform is that it enables our centres to have their clients connected in seconds. twiindata empowers our colleagues to manage their buildings effectively with the reassurance that they are backed up by the friendly support team at technologywithin."

Katie Whell,
Managing Director

Pure Offices

"The twiindata interface enables our centre managers to set up new clients very quickly themselves, rather than submit external requests in advance, which means that they can deliver what clients need on the day they move in."

Mark Gilbert,
Head of IT,

"twiinworkspace provided us with an excellent solution. It gives us a powerful tool to manage the flexible workspace at 20Mortlake. We're able to manage our clients through their lifecycle, with the CRM module assisting in handling prospects and sales leads and turning them into clients. The workspace module then lets us manage those clients within our space."

Rob Maybury,
Group Financial Controller,

Glenstone Property
How will I know that the pricing is competitive?
We know it's important for our clients to stay competitive in the market and so we ensure our pricing is competitive.
Our sales team will sit with you and run through all of the options available (Op ex or Cap ex) so that you get a solution that suits your business.
I only have only just launched my workspace. Do you have a scalable solution?
Whether you are a multi site operator, or a single workspace we can help you. As your technical partner our solutions can grow as you grow, meaning that your new clients benefit from great WiFi, internet, telecoms and workspace management software.
Can we leave the technical stuff to you so we can focus on our customers?
Of course. We can offer you a fully managed service allowing you to get on with the things you do best, providing the best levels of customer service to your clients.
We have in-house IT support and want to manage our own services
No problem, we also provide self-managed services allowing you as much control as you need.
After the contract is signed, what kind of support can I expect?
We offer dedicated account management support with regular contact from your designated manager. Alongside this our friendly, knowledgeable support team are only a phone call away to deal with any technical queries you may have. We know that people are the real technologywithin any business so we make sure you can always easily contact us.
Do I need lots of space for new systems management hardware?
No, our solution uses simple architecture through just one box which allows us to monitor service quality effectively.

If your space would benefit from the twiin portfolio,
get in touch with our Sales team to arrange a chat and a demo