The FlexSA webinar series: 6 things we learnt from the 19th May sessions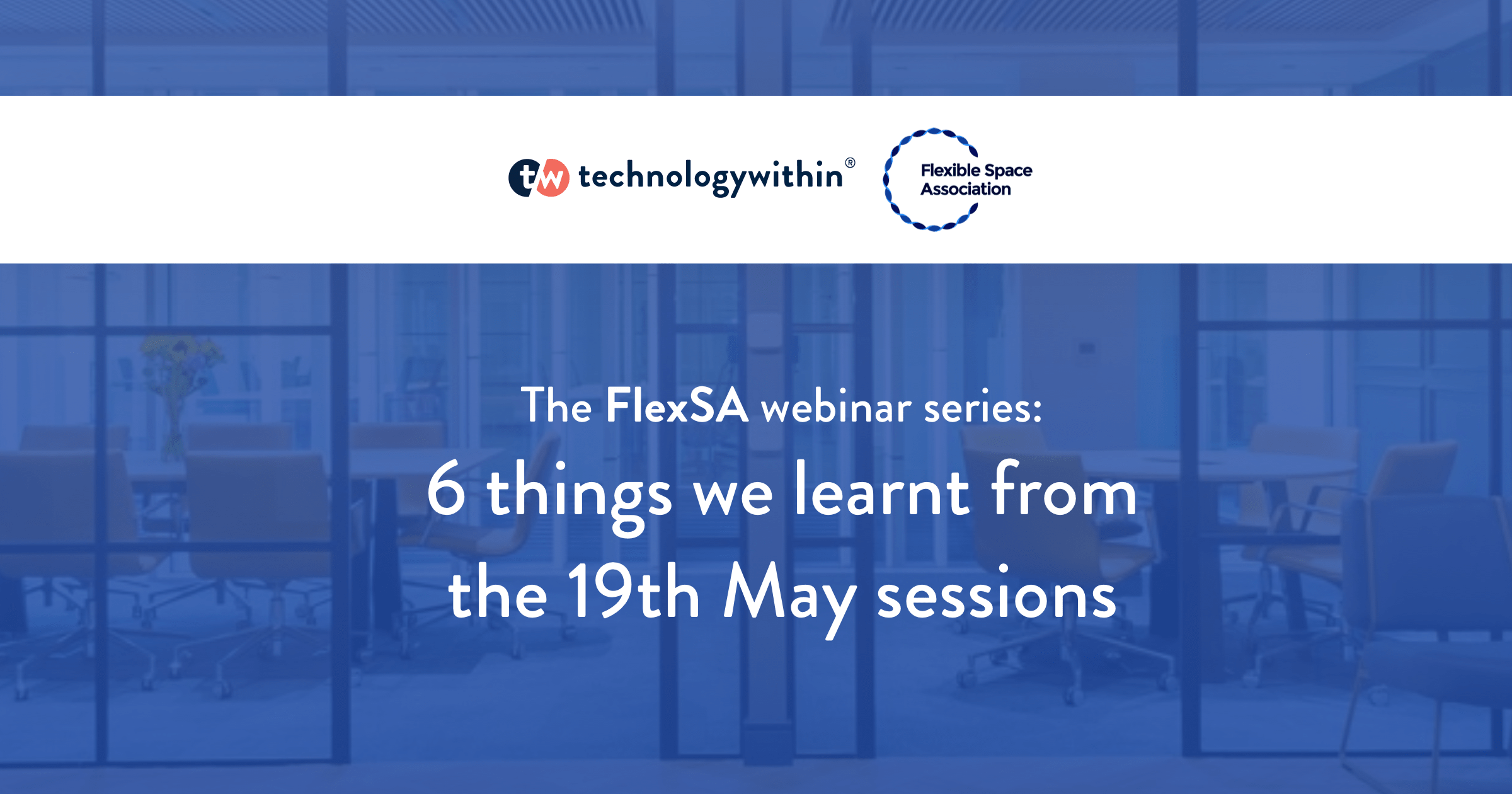 The 19th May should have seen the flexible workspace community attending the FlexSA conference in London, but in the current situation the team made the difficult decision to postpone to 2021 and instead present not one, but two webinars on the day. Here's our 6 key takeaways from the two sessions.
Session one: Two worlds and in between: the post-pandemic workplace
The first session was a fascinating presentation from Neil Usher, author and Chief Workplace Officer of GoSpace. Entitled 'Two worlds and in between: the post-pandemic workplace', Neil explored how a 'new world of working' was now challenging the older established world. Here's our takeaways:
Why do we go to the office?
Neil started by questioning the reasons we need to go to the office. Aside from the more traditional view of having everyone in the same building and managing them in a more centralised format the other main reason is to collaborate with colleagues. However, most workplaces are between 25-75% underutilised, meaning that companies are paying for unnecessary space they don't use. The daily commute to the office is increasingly seen as unhealthy and damaging both to individuals and the environment and the 'brand expression' of an office (i.e. as an integral part of the companies' branding and who they are) is negligible. The current situation has meant that these more traditional ways of operating are now being questioned.
New world Vs. Old world – A blend of both
The old world of working required attendance as standard, centralised structures, management by presence, an 'always on' culture and priority to actual physical workspace. The new world challenges all these, though there are a number of areas where both new and old could be blended. By scheduling people in for certain days/times, the need for a larger workspace is negated as it means that everyone won't be in the building at the same time. This also means that you could reduce the overall amount of space needed (as there's less people in the building) and allow you to increase the square metre per head (giving people more room) and reduce your operating costs. By freeing up space in existing workspace it could allow the operator to then offer that space for new tenancies and development new revenue streams.
A golden opportunity for flexspace
The parting thoughts from Neil were positive for the flexspace industry. In the past the real estate market had looked to the flexible workspace sector as key innovators, able to provide new working solutions quickly and easily. Post COVID-19 Neil sees a promising future for the industry providing it rises to the occasion and matches what its client are asking for – space and service that meets their needs.
Session two: The Next Flex – new operating models and beyond
For this session we were privileged to explore the current flexspace market and look at possible future trends courtesy of John Williams, Head of Marketing at The Instant Group and Will Kinnear Director at GKRE. Here's our takeaways from this session:
Work 'near' home
There's growing evidence to suggest that large corporates are starting to look at out of town locations, market towns and places closer to where their workforce live. They are looking at alternatives such as regional offices or a hub and spoke approach instead of having one head office in the middle of a large city. While working from home has become the norm, the view is that people would still like to visit a workspace. Post COVID-19 companies will need to ensure they are offering their workforce more choice in where they would like to work. Boutique and smaller regional operators could be looking at a surge in demand for their space as they cater to clients exacting needs. Those speculating that the death of the office is near would appear to be mistaken.
The market outlook is testing but positive
No one could have predicted what has occurred around the current COVID-19 situation. There is evidence that operators are having to offer their clients some rent holidays or deferments in order to help them out in the short term. The pressure is great and some operators may struggle. However the flexible workspace market has traditionally been fairly 'recession proof' in the way that it adapts and offers something to the market that it needs at the time. Both John and Will agreed that the industry was very good at doing this and would again be called upon to show the agility and innovation to meet the demands of clients.
Opportunities and threats
Large corporates have a lot of spare space which is not fully utilised. Predications are that they will be looking to take out some of the upfront costs (especially as we enter a possible recession). This could be a great opportunity for flexspace operators to step in and help them by turning their spare space into a revenue generating opportunity. However, there was a note of caution when it came to larger landlords and their portfolios. Many are now looking at providing their own flexspace offering which could be a threat to existing operators.  The question is would they know what to do to create a successful offering. They could be better off spreading the risk by entering into a partnership agreement with a space operator. This again could provide operators opportunities to show their expertise when it comes to running a successful flexible space.
Thanks to both John and Will for their insight, it was a great session. Thanks also to the FlexSA team for organising the event. If you'd like to speak to us about your flexspace or commercial real estate IT requirements we'd be delighted to help. Visit our contact us page to get in touch.
Subscribe to our newsletter
Connectivity and workspace management services that empower operators and landlords to grow