Surviving MIPIM – The Real 24 Hour Party People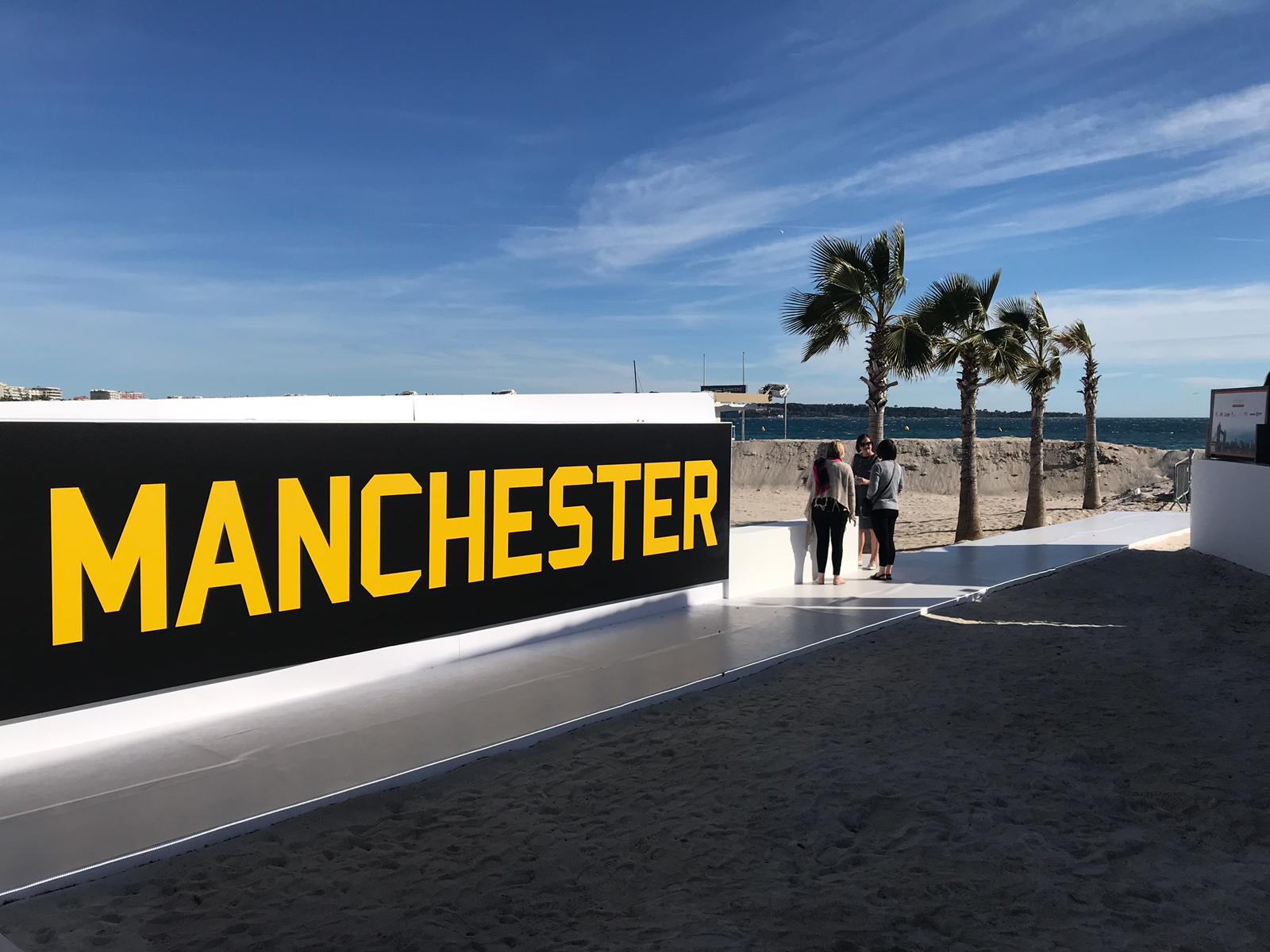 It's fitting that we chose the Manchester tent as our final go-to destination on day three of our epic maiden MIPIM outing.  Manchester by the sea, transported, surely not coincidentally, to a location offering a clear uninterrupted vista of the Côte d'Azur to any architect, developer, Russian oligarch, musician or just a plain and simple dreamer who dared to walk down its sandy street and take a peak around the corner…
This was a representation of a city I had grown up with and known all my life, nestled here in Cannes, with its behind showing to the rest of the property world, conveying the same 'yes we can' attitude and creativity which has continued to make it great.  Unveiling 'The Factory' – even the name itself an homage to the late great Tony Wilson – evocative of William Blake's Dark Satanic Mills, both arguably in their own right demonstrating the creative genius of the marketing of Manchester.  And as to Andy Warhol, well as Manchester might say, 'We invented the industrial revolution..'
And that's MIPIM.
It's all about the networking
It's easy to be cynical and to think the event is just 72 hours of boozy carnage; but it's not without point.  In just 3 days I met over 500 new faces, formed significant personal friendships and established first hand, contacts that will feed into my business development team for years to come.  Rather unexpectedly I also spent more quality time with existing customers than I ever could in the UK in 'normal' daylight hours, which opened up opportunities that otherwise may have taken years to foresee.  MIPIM creates, as if by magic, an intense festival feel around what might otherwise be a very dull industry environment. Where networking isn't painful but somewhat pleasurable, allowing the exchange of thousands of business cards and the creations of hundreds of deals on every level, including the 18 Euro pint, which I'm sure will be adjusted for inflation in years to come.
World in Motion
The 64,000-dollar question is 'As a MIPIM virgin, would I go again?'  Unquestionably, yes.  As with all great things, the value of MIPIM may well not be immediately apparent; it may take time to develop these relationships and opportunities. Then again, I don't expect Tony Wilson ever thought his stint on 'Look North West' – an early evening news programme – would lead to a major movie where he's played by Steve Coogan. Or that the Manchester band New Order would write 'World In Motion' for the England World Cup squad.  Or – best of all – that the very city of Manchester itself would honour his cultural contribution by building a £140 million creative hub to produce even more new ideas and enterprise, a space large enough to house a Boeing 747 and/or possibly the ego of the entire property industry.  Or, should Manchester simply leave that to MIPIM? An event which seems to have found a way to facilitate that rather well.
Subscribe to our newsletter
Connectivity and workspace management services that empower operators and landlords to grow