Six Things We Learnt at The Bisnow "Office Politics: What Occupiers Want" Event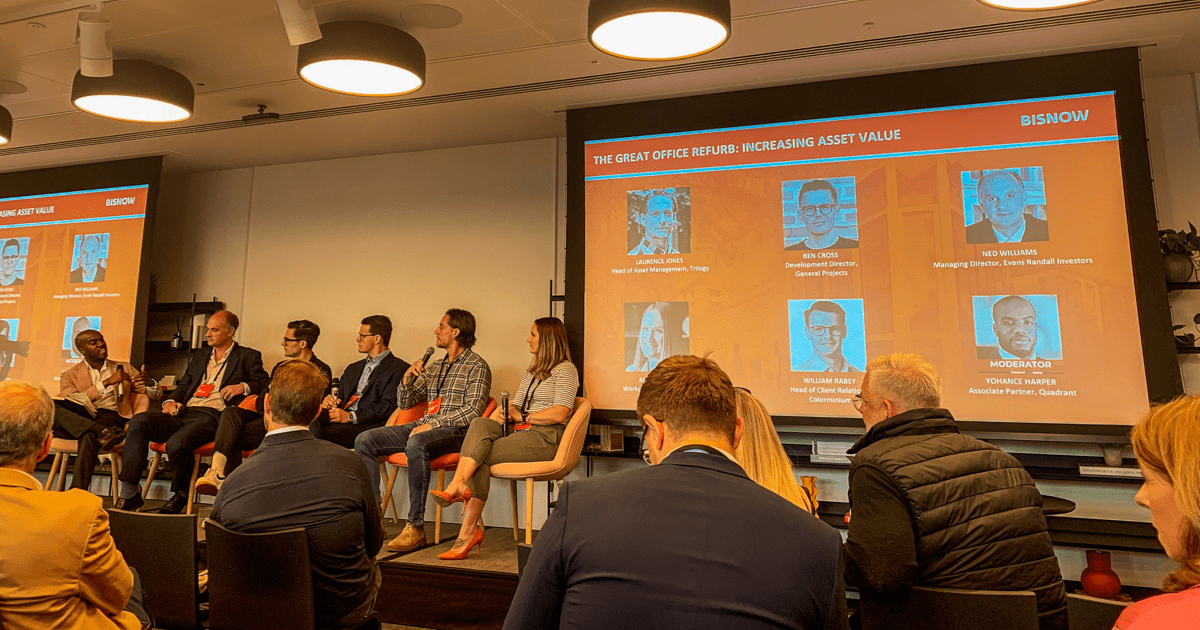 September 22nd, Convene, 22 Bishopsgate
Last week's Bisnow event, "Office Politics: What Occupiers Want" offered the audience some insightful panel debates on the priorities and needs of tenants from architects, developers, landlords and technical partners in the CRE sector.
Working from home; Homing from work
According to Richard Harrison of Gensler, now that occupiers are accustomed to working from home, they now expect to "home from work" i.e., for their office space to feel as comfortable as working from their own home, with the same amenities.
A flexible mix of private and community space is key to efficiency and experience
Monica Bewak, Director of Sales London for host space Convene, has found post pandemic that Convene private office clients are asking for smaller private offices but have a much greater desire to use communal spaces and amenities to compensate for that on a daily basis and then to book the conference type space three or four times per year for events such as townhall-like team meetings where they gather the whole team together, or for client engagement.
The office is a vital part of the S in a companies' ESG policy
Gone is the role of the corporate HQ as a forbidding fortress, separating a company's employees from its local area and showing off their power and prestige of that brand.  Today's talent wants their companies' buildings to be more open and give back to the community. Yohance Harper, from Quadrant, shared that he had invited in a local school to get involved in the gardening initiative running at one of his buildings to deliver on that.
Green buildings are top of occupiers' wish list
Occupiers want to be able to tell a green story as a part of their brand credentials and their workspace is key to that, shared James Palmer from Metricus.  So, the key for all those designing and managing CRE is to use as little energy as possible. One client had created a BMS whereby they only opened their building floor by floor each day as desks are allocated.  This both reduced energy usage and enabled better quality fresh air flow on the floors in use.
Action, not accreditation, on sustainability
According to David Kaiser of WeWork, the bewildering array of sustainability accreditations are all flawed in some way, so the best approach to communicating your sustainability is to take measurable action.  Occupying densely is a simple step, as is recycling building fitout, rather than redeveloping from scratch.
Proactively listen to your occupiers and then act!
Checking in with clients three months before their lease is due for renewal is not a way to retain tenants in 2022.  An ongoing proactive conversation is key, David shared.  WeWork proactively ask clients what they need to fix and use Net Promoter Score to create a data set that they can use to decide how to invest in their buildings for improvement.  Laura Wilson Brown, from CBRE, agreed that being proactive and aiming to be the best possible landlord was a necessity to retain clients.
Get in touch
If you'd like to discuss any of the topics here or want to know more about how technologywithin can help you, get in touch with our team on  020 7953 8888 or email hello@technologywithin.com
Subscribe to our newsletter
Connectivity and workspace management services that empower operators and landlords to grow