Is Greyspace a Flexible Workspace Opportunity?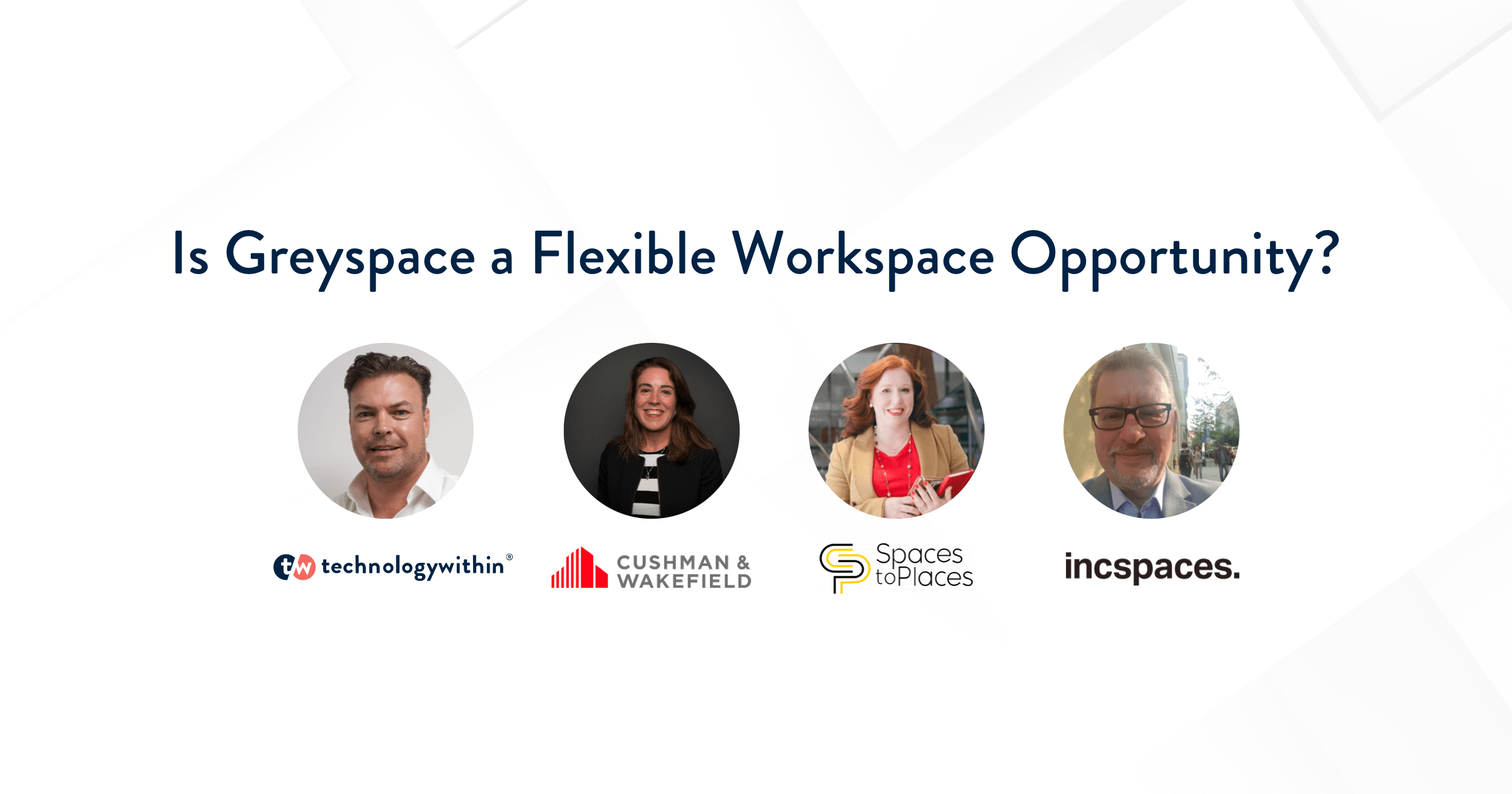 Our Sales & Marketing Director, Richard Morris,  hosted a webinar exploring Greyspace and the Flexible Workspace opportunity last week, with flexible workspace experts Emma Swinnerton, Cushman & Wakefield, Zoe Ellis-More, Spaces to Places and Andrew Butler, Inc Spaces.
Our panellists offered some really in-depth market insight and practical advice for landlords and operators rethinking their offerings, so we've pulled out the key points to share with you in this summary.
Greyspace explained
Greyspace, or tenant supply as it's sometimes referred to in the CRE sector, is defined as commercial office space which the tenant decides to vacate during their lease period and remarket.  It has become a topic of debate because the pandemic has contributed to a spike in greyspace, with Savill's recent report stating a 106% growth over the past year in London, resulting in a total availability of 6.1m sq. ft.
Why greyspace has grown so much during the pandemic
Emma explained that the pandemic had led to companies reviewing their space because they were moving from an expectation of staff working in the office 4-5 days a week to a more distributed strategy with a mix of home, local flex and main office.  Add into that a dip in profitability and a need to reduce costs and releasing space back to the market is the result.  Cushman & Wakefield's latest estimate is that 27-36% of all London office space is now greyspace.
Space quality is key in greyspace
Zoe reported that there had been a tendency to retain Grade A space (newly constructed, high quality, best location) because better quality offices are more likely to attract people back to work post pandemic. This meant that more of the space being released was Grade B.
Is greyspace a flexible workspace opportunity?
With the UK the leading market in the world for flexible workspace, is the natural answer to convert greyspace to flex? Andrew dispelled any belief in blanket opportunity with greyspace. Each location requires research on the appetite and competition alongside an assessment of the building suitability.
Flex isn't a fix-all solution for Grade B space, Emma believes. Whilst historically flex was always the poor relation and landlords would look to flex as a solution for space if they were unable to lease conventionally, this is no longer the case. Flex is often heavily used space and occupied by a wider group of people and so the fitout needs to be of a decent quality.
Zoe added that whilst most greyspace leases currently available end by 2025 and they are often the least desirable part of any portfolio, there are operators who can work with this sub optimal space to create basic workspace that meets the need for a lower price point effectively.
The balance of convenience and destination will shape workspace needs
Recent client discussions have shown both Andrew and Zoe that a rethink on the purpose of the office has happened, creating a balance of convenience and destination for the end user. This means a need for express touchdown spaces, a step up from a café, just to take a break from working from home, but still local to home. At the other end of the scale is the central hub office, which workers would travel to once or twice a month to do training or meet clients. This has to have the wow factor and be worth the commute, with a high level of amenities and provide opportunities to socialise with co-workers or clients.
Is the landlord and operator space narrowing?
Emma shared how Cushman and Wakefield established their flexspace division in acknowledgement of the growth of the flex model and that client demand is for consultancy to landlords and investors, but also to occupier clients looking at offloading space. She has seen an up-turn in business for the department as they negotiate between struggling operators and landlords, helping them to find commercial compromises going forward.
She is also seeing that with new buildings, flex is built in as part of the offering to ensure success, as it allows occupiers to easily flex their space up and down as they grow or decline
Landlords are open to the flexible workspace opportunity
Andrew has received many enquiries recently from both office space and retail landlords keen to discuss options to re-purpose their spaces and Emma also sees a shift in the acquisition strategy of large landlords. They are willing to change their space proposition to attract growing businesses into their office portfolio. They can see the opportunity to offer them more space and model choices to help them develop and, at the same time, diversify their customer base.
Zoe also sees evidence in the market that traditional landlords like Great Portland Estates are considering portfolio diversification, with plans to double the proportion of flex within their portfolio from 10 to 20%. Similarly, occupier landlords, like IBM, are displaying a nimble attitude to turning around their greyspace, launching a flexspace at their Winchester site, working with operator Incuhive.
The end user has the power, but the operator bears the risk
The winner coming out of the pandemic is the end user, Andrew asserted, as they will have more choice of workspace, but the landlords and operators are going to have to work together to deliver that choice. This means more flexibility from landlords on commercial terms, more managed space, or waterfall agreements, with options to convert to lease.
Flex creates a paradox, he believes. The end user enjoys the benefits of flex space with short or rolling contracts meaning they can walk away from their office space quickly. The flexible workspace operator is tied to the traditional long lease, bearing all of the risk. For the flex model to work in the future the risk of flex has to be shared between landlord and operator. This means rent free periods, giving them time to reach maturity (2 years minimum) and offset the fit-out costs and licence enough of the site to make it viable.
Getting the tech right is key
Ensuring that the space has the right kind of tech will contribute to its success whichever operating model you choose Andrew believes. Operators need to keep ahead of the curve of client requirements as technology in the workspace continues to change quickly. Richard shared how technologywithin are increasingly working with landlords to ensure that buildings are fibre-ready, so that occupiers can move straight in and start rental contracts earlier.
If you'd like to speak to any of our panellists today, please reach out to them on LinkedIn:
https://www.linkedin.com/in/emmaswinnerton/
https://www.linkedin.com/in/flexspacemarketing/
https://www.linkedin.com/in/andrew-butler-16b52510/
Subscribe to our newsletter
Connectivity and workspace management services that empower operators and landlords to grow