GCUC UK online panel summary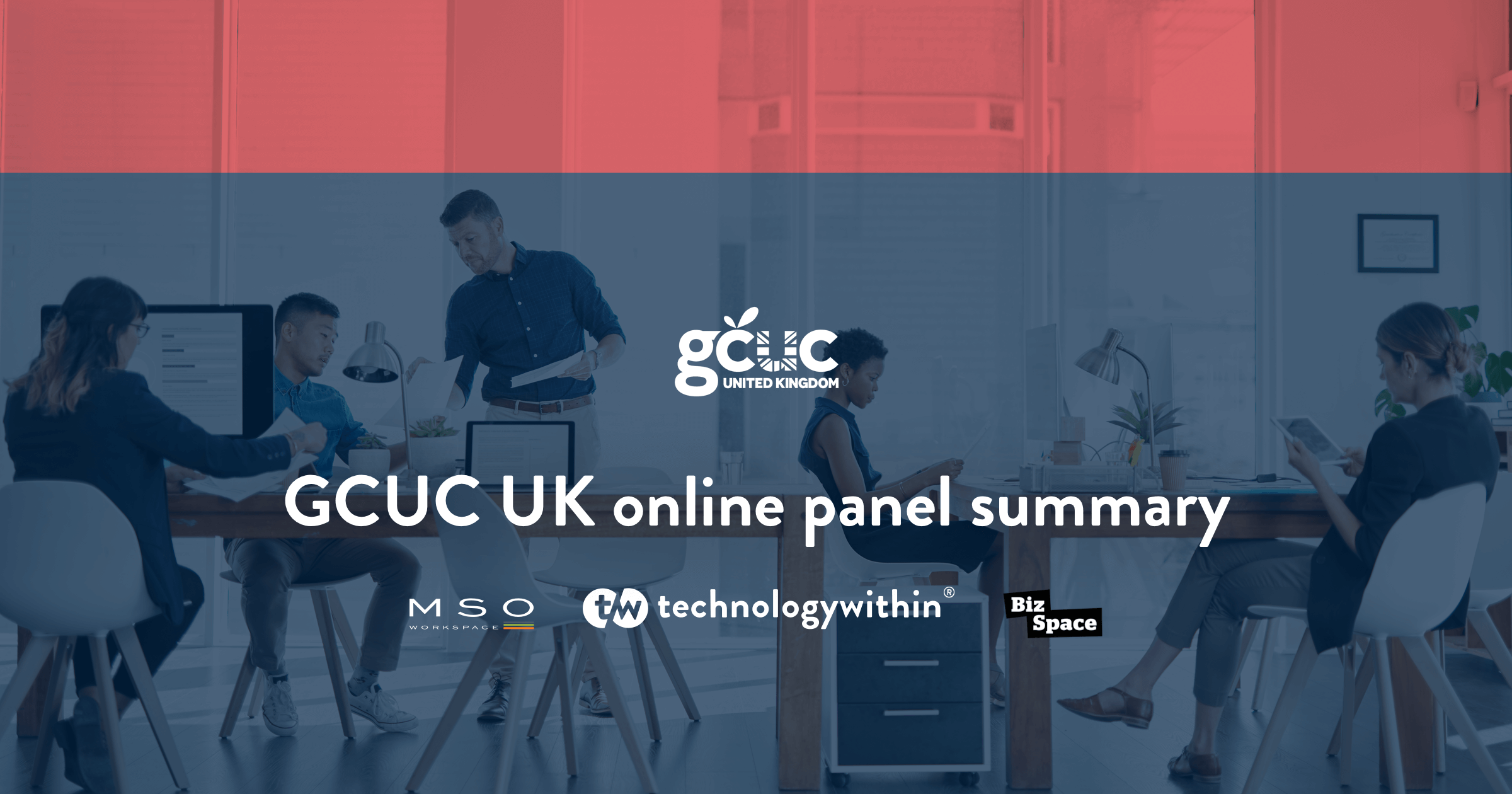 For Day 1 of the GCUC UK Online Conference on June 24th, technologywithin presented a practical panel discussion to help operators grab the opportunities presenting themselves as companies reassess their office strategies and consider regional hub solutions.
Joining our Sales Director, Richard Morris, were Steve Lyons, MD of MSO Workspace and BizSpace's MD of the North, Emma Long, who both have extensive experience in developing flexible workspace operations outside major cities.
Flexspace growth post covid
Emma shared that Bizspace's experience over the past few months backs up the idea that companies will re-evaluate their office space strategy, with £1m in new business in June alone.  Existing clients are taking more space to support social distancing, but also new larger clients are creating office hubs outside of city centres. The regions do indeed seem to be enjoying the strongest growth, with the North West topping the sales chart for the past three months.
MSO Workspace, who have 10 centres in the Midlands and North, are also seeing enquiries increase in June, for September start leases, with clients tiring of homeworking. Steve noted that flexspace in the regions had seen a steady growth trend over the past two to three years, before COVID impacts.
There was agreement that the market as a whole should benefit as specific location is key to meeting client needs, based on their workforce, so it's about which exact solution works rather than worrying about the competition.  However, as more companies currently in leased space in town centres look to move out, flexspaces on the outskirts with plentiful parking and an adaptable approach to space will certainly prosper.
Creating the "new normal" workspace solutions
Hybrid working will be more usual, Steve believed, with companies taking less space but using it more effectively by creating a staff rota, with a mix of working from home and going into offices for meetings. "Flex is best set up to support companies in this style of working. If we are creative with our offering, its an opportunity and having the ability to flex data bandwidth near instantly will be a key part of the offering."
Emma's view is that, "Future success is about listening to what clients need and ensuring that the offering and the technology are flexible enough to deliver". She predicts a rise of walk in meeting room and office users, without contractual commitment. So, simple WiFi sign in and great internet performance is key.
Listen and be flexible to meet corporate technical needs in flex space
Asked if Corporate clients did have more stringent IT requirements, Emma's experience was that whilst some larger clients do prefer to house their server in their office and create their own firewalls, a client who recently signed for a 25,000ft office space took the BizSpace IT solution. So, its key to listen and have support from your IT partner to offer a flexible solution.
Steve finds that Corporates are more likely to have their own IT managers and may have more specific stipulations on network set up, but that he was usually able to offer best prices on data bandwidth and sees continued growth in dedicated bandwidth as a certainty.  MSO also attract larger companies by building in resilience in every centre – the key to ensuring the high-performance levels that these clients expect – and ensuring that staff are well trained on the technical offering.
Stay in touch
Thanks to our panellists for sharing their experiences and views at the GCUC UK online event. If you need support in creating flexible technical solutions for the "new normal" – just get in touch and call our friendly sales team on 0207 953 8888.
Subscribe to our newsletter
Connectivity and workspace management services that empower operators and landlords to grow