Five things we learnt at GCUC UK 2023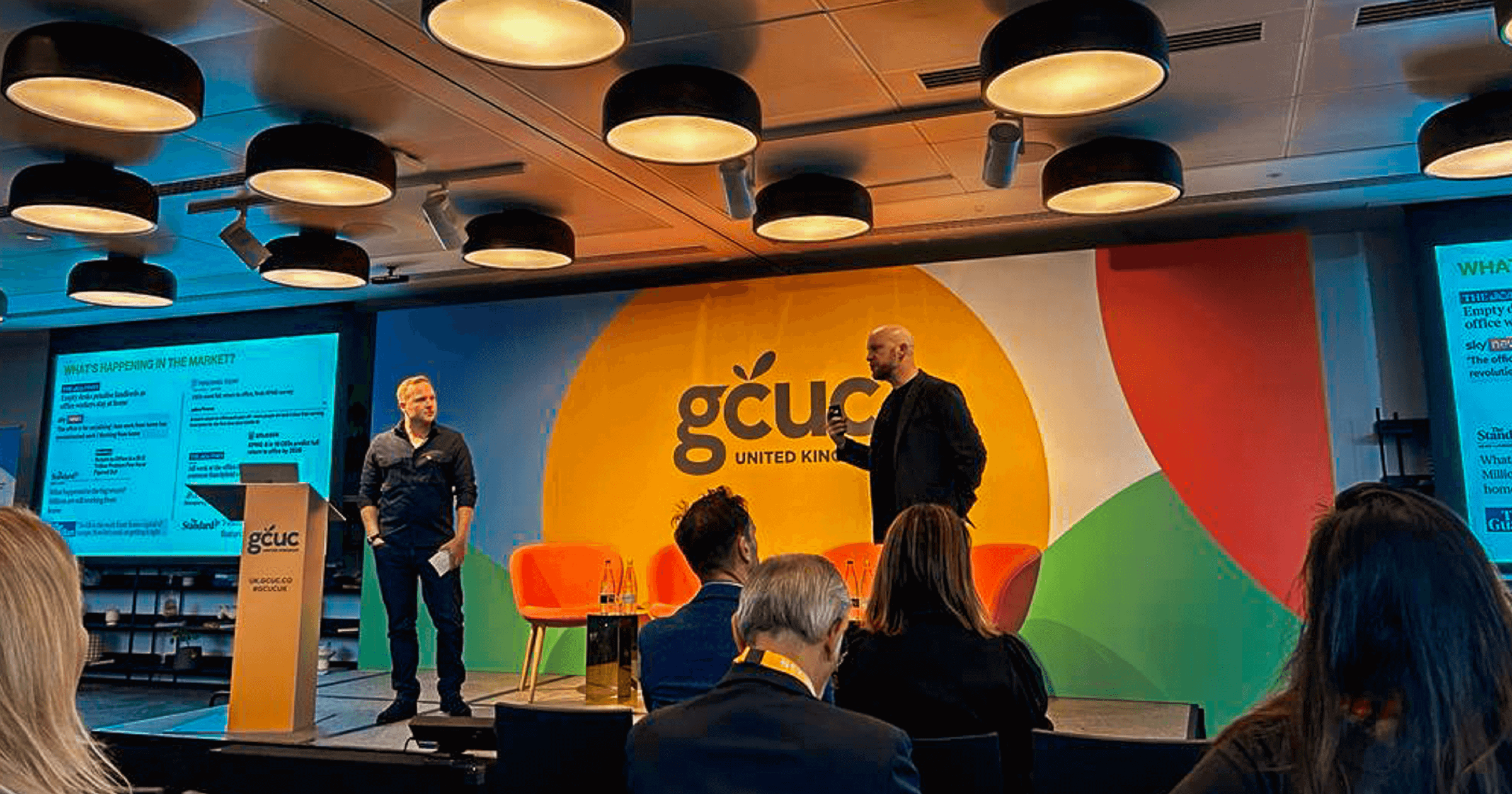 GCUCUK, held at Convene 22 Bishopsgate on November 2nd, was as ever a positive, noisy gathering of the coworking sector. The overall message was that we all need to be loud and proud about our sector to keep the groundswell of flex moving. To prove the model to landlords and property investors. But, here are our five key takeaways
Diverse voices drive fresh thinking
Although an established model in the UK property market, flexible workspace and coworking are still the young guns in the long established commercial real estate sector.  As such it's important that we drive forward the diversity agenda and the event this year was refreshing for its balanced panels, new faces and fresh ideas. Well done to new GCUC UK 2023 producer Emilie Lashmar for delivering an innovative conversation and to Alex Young, Director at Projects, as a first time event host!
We need to focus on long term growth
Instant's James Rankin and John Williams opened the conference with their usual review of the market. They provided an in-depth look at the supply and demand ratios across key markets, showing that the 2nd cities and regional hubs are under invested in terms of quality workspace.  There is an unspoken struggle for profitability, with inflation pressures and high levels of bankruptcy forcing operators to take on the cost increase burden.  Sustainability is the no.1 priority for corporate occupiers, so we need to invest more – and crucially – get better at selling it. The current tough market is encouraging Landlords to fall back to the safe space of leasing, so we have to keep shouting about the benefits of flex. Will flex hit the JLL prediction of 30% by 2030? Instant's current view is 23%, based on data and sentiment from operators.
Be more pirate!
Author, coach and speaker Alex Barker encouraged us all to set a bold agenda and break the rules occasionally, to create change, rather than waiting for change to come. We should be brave in setting our agendas as organisations in terms of our values, our policies and strategies.  Seeking out those we align to in our world and sector views was suggested as a good starting point, to start those conversations. Action is key though – having a gap between your principles and your actions creates a lack of authenticity, so make your goals specific and actionable.
Manage the cost base to drive profitability
The "Innovation, Impact and Income: The Coworking Equation" panel, gave some really considered insights into the business of managing space. The panel first encourages us as a sector to not compete to win clients from each other; but instead to collaborate to grow the sector as a whole.  We should be focusing on managing our cost base rather than driving revenue to move toward profitability. So, whilst we should always meet client needs in terms of hygiene factors, like great WiFi, we need to invest carefully in the expensive nice to haves and really think about how we sweat those assets before investing.
Conferences are not just about listening
A first for this GCUC UK, was the introduction of the Networking and Roundtables: Problem Solving and Insights in Coworking as an alternative track during the afternoon.  These provided a popular opportunity for operators and partners to have some honest and in-depth conversations, discussing areas such as Marketing, PR, talent acquisition, sustainability and community.
technologywithin partner with flex operators and commercial landlords to bring their spaces to life, by providing connectivity and workspace management solutions that deliver growth. We work with a range of clients that includes everyone from boutique coworking spaces through to large multi-site operators. Find out more about our services here.
Subscribe to our newsletter
Connectivity and workspace management services that empower operators and landlords to grow