Coworking spaces are the beating heart of local economies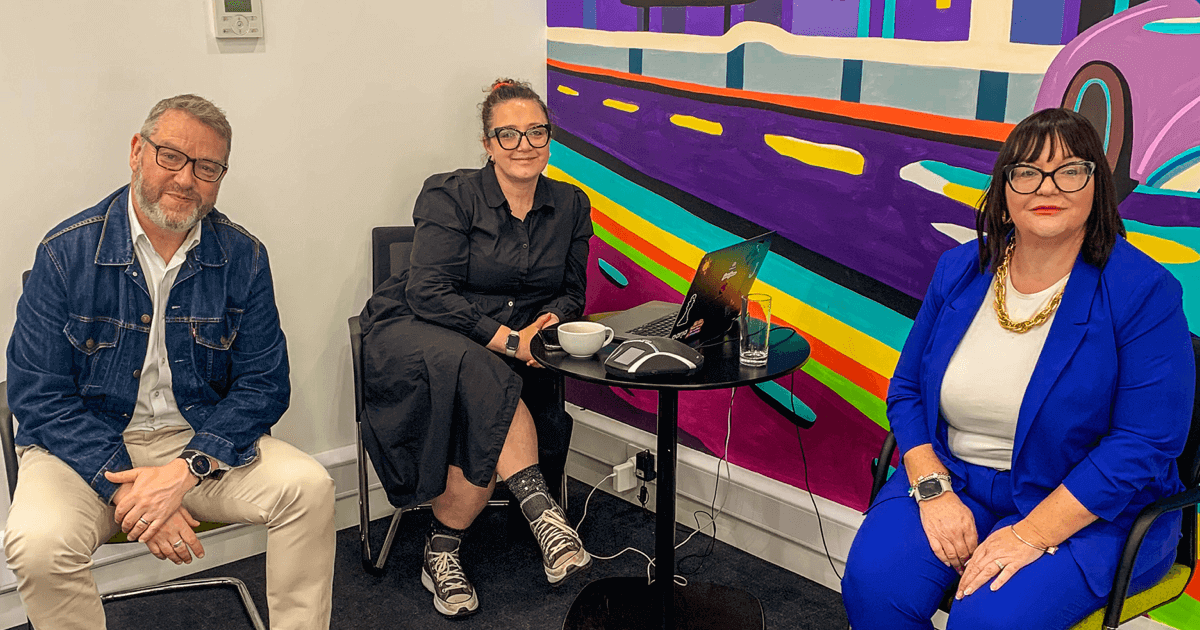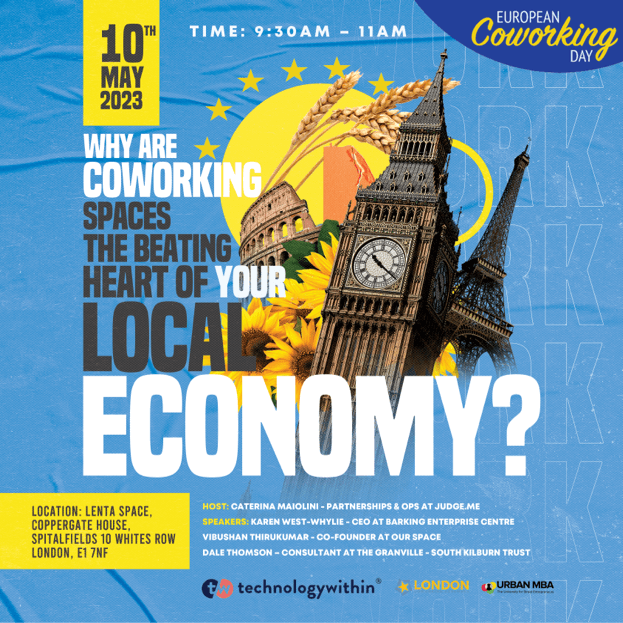 To celebrate #EuropeanCoWorking Day on 10th May 2023, we hosted a London Coworking Assembly Breakfast at LentaSpace at Coppergate House in Spitalfields to explore 'Why are coworking spaces the beating heart of your local economy?'. The panel of experts – Karen West-Whylie (CEO of Barking Enterprise Centre – BEC), Vibushan Thirukumar (Co-Founder of Oru Space) and Dale Thomson (Consultant at The Granville – South Kilburn Trust and formerly of Islington Council) –  was moderated by Caterina Maiolini.
Here are our key takeaways:
The panel were in agreement that coworking spaces – with the right ethos and leadership – add financial and social value to their communities, creating a tool for rejuvenation.
They first considered the relative value of large employers and coworking spaces in terms of job creation.  Formerly a centre of UK car manufacturing, Karen West-Whylie share that Barking and Dagenham had been in a state of decline ten years ago, a fate similar to many ex-manufacturing centres in the UK. Whilst the local council have brought in new industries to replace it – with the three London Markets moving into the area nest year alongside the creation of a new film studio – the three coworking spaces run by BEC have created a space to stimulate and support small business, creativity and entrepreneurship for local people.  "As an operation, we are providing business owners with the tools and skills to grow, we're supporting our local people to take the step up to work with, inside and alongside global brands and businesses."
Not only has this created jobs for local people, it has also started to rejuvenate the high street, creating a "mixed economy", as Karen terms it, with the workspace users creating more footfall in local shops and supporting their growth to ensure that the reinvigoration does not just deliver a homogenous row of chains.
Speaking with his former Council hat on, Dale explained "Councils naturally tend to work in silos, the property, planning and employment team all need to come together to find solutions". Coworking offers such a domino effect for local communities, having a space on the high street, brings people to the high street where they will spend in local shops, creating an affordable space makes it easier for an entrepreneur to start; once they grow they can employ someone locally too. With more people hybrid working and being attracted to move out of London, a vibrant independent high street is a positive draw and coworking can create that, with local council support.
Vibushan, founder of Oru Space which has a space in West Dulwich, and a second opening in Sutton (both launched in conjunction with the respective councils) explains, "We're on the high street so we bring a blend of coworking, hospitality and wellness. We have tattoo artists, psychotherapists, acupuncturists and yoga teachers offering classes using the space, each bringing in customers – some of whom join to use the coworking space. It's its own ecosystem – we see cross-pollination within the space itself but also  see as a part of fending off the real loss of the independent business on the high street.  We're also really excited to work outside of London because of the opportunity to grow and also unlock local potential."
The pandemic has fast forwarded the future of work; the flexible workspace and coworking offer has exploded. Enabling not just solopreneurs and small businesses, but corporations too to use spaces to offer a better workplace culture. Jon Seal, our MD, explains "Employers are thinking differently, and technology is enabling businesses to thrive as you don't need to be in a capital city to start or grow a business. Councils are shifting their thinking and using coworking as a tool to support the local economy, rejuvenate the high street and diversify employment opportunities. We can see the transformation impact already in places from Matlock to Margate, where people are working closer to home and using their local facilities and retailers much more."
To watch the discussion, you can catch up here.
Subscribe to our newsletter
Connectivity and workspace management services that empower operators and landlords to grow