5 key takeaways from Women in Flex and 3 top tips for flexing in flex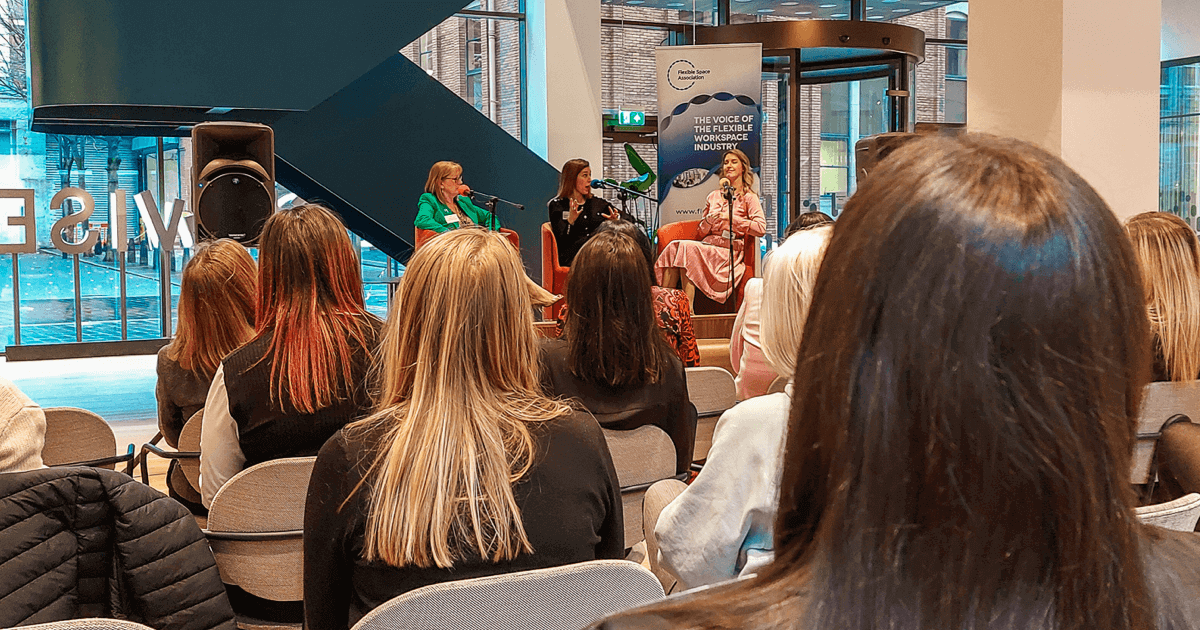 For International Women's Day, we sponsored our second Women in Flex event with the Flexible Space Association hosted by our client Clockwise in Manchester. It was a superb evening with a host of women across the flexible workplace sector, from community managers through to marketeers and lawyers. It was a celebration of the sector and the women who make it.
The sector is female led, but there is more work to do in getting women into the C-suite. Here are our 5 key takeaways for women in flex, a panel led by Alexandra Livesey – COO of Clockwise, with Jane Erasmus – Sales and Marketing Director from UBC, and Gal Leslie – Sales & Marketing Director at 2-work.co.uk.
1. You don't need to go to university to succeed in Flex
The flexible workspace is growing and evolving, with a number of entry routes – you don't need to have a degree to get into it just a willing attitude shared Alexandra, who started her career as a pot washer in a hotel and worked her way up to COO of that hotel before transferring to Flex.
2. "What happens if I press that button – you may not know, but you'll find out" says Jane
No one has all the answers, but we find out on the journey; in which we learn from the outcomes, successes and mistakes. There is a road well-trodden, but that doesn't make it the right place route for you and your business. In a sector that enables agility, it too needs to be the same.
3. Turn a negative into a positive
Gal told us that she is often underestimated because she is a woman, but she has turned this around and used it to drive her success – "an old boss said you can't do it, I knew I could, so I did. He then messaged me a few years later to apologise".
4. Learn from the new generation
Social media, the pandemic and a reflection of workplace culture has pushed young people especially to demand more from work. "We need to learn from them, and demand more – know your worth and want for nothing less" says Alexandra.
5. Inspire others to get into Flex
Many of the audience came into flex space accidently despite it being a rewarding and exciting sector. We all have a role to fly the flag for flex, whether it's going into schools to inspire the next generation or sharing our roles and responsibilities with others. "It's not just something we should do to recruit for our business but the sector as a whole" remarks Jane.
The second panel was about Keeping the Flex in Flexible working, the panel was hosted by Heather Gray – Director of Sales at Clockwise, with Freya Cross – Chair of the Flexible Space Association and Hannah Al-Shaghana – Partner at Beyond Corporate Law.
We've created a top 3 tips from the panel –
1. Managing your time
"It's all about how you organise your time. Set time aside for your work, for answering emails and for doing the things you like to do" says Hannah. It's easy to get distracted with the ever-incoming number of emails which is why structuring your day is a useful tool for aiding flexibility. Freya went further to say that she created automatic rules for emails too, to create a natural hierarchy of what needs to be replied too.
2. Set Expectations
Heather shared that at Clockwise, they've created an authority matrix and by empowering the team to make decisions within their boundaries it got rid of unnecessary quibbles in the workplace, meaning people can get on with their work. Setting expectations from the business, and vice versa, enables the team to be more flexible and productive. The key to successful businesses is delegating but we need to trust others to do their job.
3. Create space for wellbeing
For many the pandemic kickstarted hobbies that we've not had time for or things we like to do – from watching films through to running, baking and drawing. We may have returned to the office, but find space for this, set time and boundaries providing a work/life balance.
To find out more about the Flexible Space Association and Women in Flex, visit www.flexsa.co.uk and we hope to see you at the next event.
Subscribe to our newsletter
Connectivity and workspace management services that empower operators and landlords to grow